"There Is Significant Internal Weakness": Why The "Flight To Quality" In The Nasdaq Stinks
"There Is Significant Internal Weakness": Why The "Flight To Quality" In The Nasdaq Stinks
From Larry McDonald of The Bear Traps Report, April 10, 2021 edition
There is a clear flight to "quality" inside the Nasdaq which is HIGHLY unusual with the colossal threat of higher rates – reopening hanging over the Nasdaq's head. SELL Nasdaq signals are getting much louder.
Isn't the entire street going to tighten limits? We went from the Nasdaq Whale, to Robinhood leveraged up traders blowing up Melvin Capital, and then to Archegos blowing up on leverage. In our view, a meaningful amount of the last few hundred handles in the S&P's rally were through pure leverage. What happens when this leverage is taken down across the Street?
In Q1, investors borrowed a record $814 billion against their portfolios, up 49% from one year earlier, the fastest annual increase since  2007. The last time investor borrowings had grown so rapidly was in 1999. Leverage has been the marginal buyer. As the leverage shocks pile up the probability of deleveraging is rising sharply.
The 'Flight to Quality' in the Nasdaq smells, there is significant internal weakness:
NYSE new highs is at 90 vs. 405 in February

The Russell 2000 rolling over and under performing its peer indices

AAII sentiment is at nose bleed bullish levels (6th best all time)

ISM Manufacturing is at the highest since 1983, which points to weak forward returns

High yield spreads are near 2007 tights

Tax hike risk is higher

We have large fiscal spending that is certain to come, but that is a Q3 Q4 event

Ukraine/Putin risk

Taiwan (known unknowns)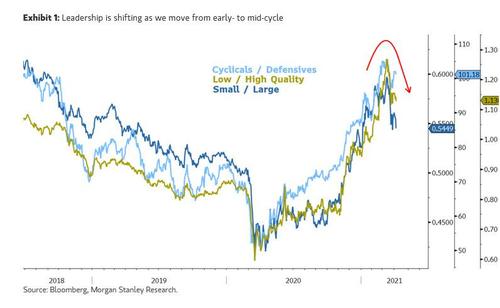 Above all, Softbank whale (September), Robinhooders spiking GameStop (January), Greensill (February), the SPAC sell off and issuance freeze (February), and Archegos blowing up (March) the reasons to delever are piling up.
Leverage tremors have been mounting, the system is breaking down, but has the marginal buyer been neutered? They have been wounded for sure (see ARKK), but recent lows in VIX Volatility speaks to cheap protection vs. the risks.
Late Comers to the Party: Investors have injected more money into equity funds in the last five months than over the last 12 years, per BofA.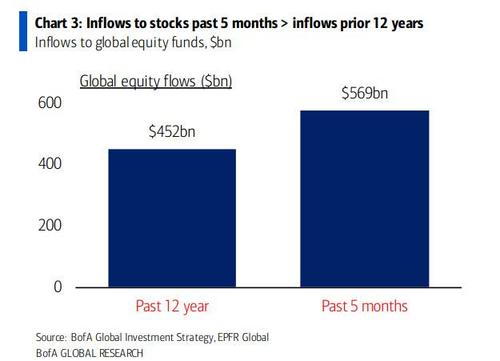 Bottom YOU DO NOT want to be fully invested with ISM at record levels, AAII bulls printing near its best levels all time and high yield spreads near 2007, pre-subprime blowup tights. It just is POOR risk management.  Raise capital for the next shock. Since 2015, this is the ONLY strategy that has really worked. You can say "Buy and Hold" but very few investors can weather the shocks.
S&P Weak Returns after High ISM Prints
The March U.S. ISM Manufacturing print came in at 64.7, its highest reading since 1983. Looking at data since 1970, the S&P 500's forward returns are very poor when ISM (and optimism) is this high.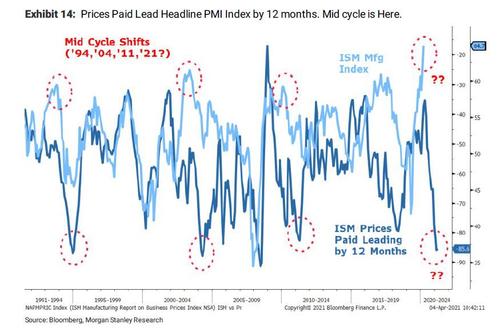 Notably, the weakness isn't just a few months out, over the past 50 years, ISM prints this high have been correlated with market cycle peaks. Meanwhile, 95% of S&P 500 companies are trading above their 200 day moving average, overbought
A noticeable trend in recent weeks has been the underperformance of high-flying, highly levered growth names. Keep in mind, most of these companies have very weak balance sheets. For months the Nasdaq 100 and the ARKK Ark Innovation ETF were tightly correlated, however, this correlation has broken down.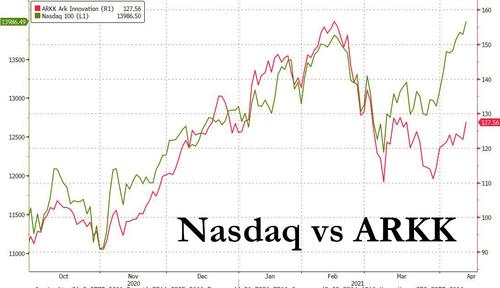 While the 'stronger' tech companies like Apple (large cash balance) have headed back towards their highs, the high growth names in ARKK have struggled to get of their recent lows.
Weak Breadth
"In the last 21 days, the Nasdaq is up 6% with the average breadth (advancers decliners) across the Nasdaq at 147. This hasn't happened in the history of Bloomberg data. So, as ARKK, TSLA, and SPACs are all wounded. There is a flight to safety into large cap names. We remember this action vividly in 2007. Notably, a 5% rally in the Nasdaq in 20 days with an average breadth of 125 (slightly less extreme breadth divergence) HAS occurred a few times in the past 15 years. The prior occasions pointed to poor forward returns. One of these weak breath time period was the days before the February 2020 high and the other two were in 2007 and 2011."
Tyler Durden
Tue, 04/13/2021 – 16:45