Trump Signs Executive Order Banning Transactions With 8 Chinese Apps, Including Jack Ma's Alipay
Trump Signs Executive Order Banning Transactions With 8 Chinese Apps, Including Jack Ma's Alipay
In a dramatic U-turn in US-China sentiment, which went from sheer euphoria following NYSE's bizarre reversal late on Monday when the exchange announced it would not delist three Chinese telecom giants, sending their stocks – and the yuan – surging, to gloom just one day later when the NYSE flip-flopped on its flip-flop after a Bloomberg report that it was reverting to its original plan (unveiled just last Thursday) to delight Chinese shares (after an angry Steven Mnuchin expressed his "displeasure" to NYSE president Stacey Cunningham), moments ago hopes for a quick detente with Beijing were crippled further when Reuters reported that Trump – clearly intent on burning as many bridges with China as possible ahead in the next two weeks – signed an executive order banning transactions with 8 Chinese software apps, including Ant Group's Alipay.
The report also explains that the Executive Order tasked the Commerce Department in defining which transactions this will apply to, in other words it was rushed and meant to be more of a symbolic announcement than anything else.
Unfortunately for China's richest man – Jack Ma – whose fall from grace in the past wo months is the stuff of legends, the latest Trump executive order is a double whammy for his Alipay, which is owned by Ant Group (the same company whose IPO was unceremoniously blocked by Beijing in the last minute), because as WSJ reports China's regulators are "trying to get Jack Ma to do something the beleaguered billionaire has long resisted: share the troves of consumer-credit data collected by his financial-technology behemoth."
Mr. Ma has little room to bargain after the business empire he has built over decades has landed in the crosshairs of regulators and even President Xi Jinping, partly reflecting Beijing's concern that the flamboyant entrepreneur has been too focused on his business fortunes rather than the state's goal of controlling financial risks.

Central to the crackdown on Ant Group Co., in which Mr. Ma is the controlling shareholder, is what regulators view as the unfair competitive advantage the company has over small lenders or even big banks through swaths of personal data harnessed from its payment and lifestyle app Alipay.
The app, used by more than a billion people, has voluminous data on consumers' spending habits, borrowing behaviors and bill- and loan-payment histories. Which is precisely why Beijing wants to control the flow of information.
And now, in addition to the ongoing crackdown from Beijing, Jack Ma – who may or may not be missing but has certainly disappeared from the public spotlight – has Trump's latest executive order to worry about. In response to this dual attack from both Beijing and Washington, Alibaba stock promptly responded: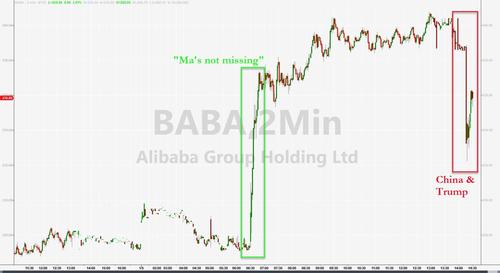 It also means that his only possible recourse would be the friendly treatment from the Biden administration, something which considering China's extensive "relationship" with Hunter Biden, will be forthcoming shortly.
Tyler Durden
Tue, 01/05/2021 – 17:49