Two Trains Collide In Egypt, Reports Say
Two Trains Collide In Egypt, Reports Say
Egypt Today reports two trains have collided in Sohag, Upper Egypt, "resulting in derailing three passenger carriages." There were reports of at least 50 people injured, according to Sputnik News. 
Middle East Eye says "49 ambulances have rushed to the site of the train collision." 
#BREAKING
Several casualties reported as two trains collide near Sohag governorate, Egypt pic.twitter.com/4ooAHbEmZ2

— Daily News Egypt (@DailyNewsEgypt) March 26, 2021
Reporting of the incident is scant at the moment, but Twitter users have been uploading alleged images of what appears to be passenger railway cars derailed in a twisted mess.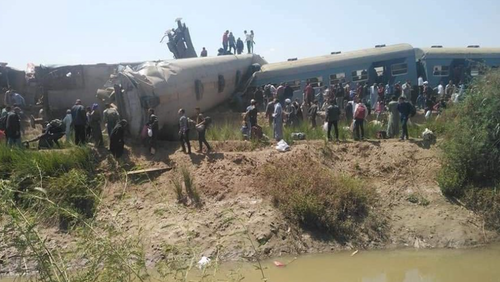 Here are more photos of the incident. 
🇪🇬 #egypt

Mısır'ın Sohag kentinde iki tren çarpıştı. Ölü ve yaralılar var. pic.twitter.com/z6PaIzEU81

— Frank William (@frankyedekkk) March 26, 2021
Preliminary photos of a collision accident two trains in the governorate of Sohag, south of Egypt pic.twitter.com/gIBmVDo7Yr

— spriters (@neccamc1) March 26, 2021
#Egypt : Crash involving passenger trains in Sohag governorate – unclear how many casualties #سوهاج #مِصر pic.twitter.com/7NUzVGVCJe

— sebastian usher (@sebusher) March 26, 2021
Video of the wreckage has emerged via Al Arabiya.
مباشر من #العربية | سقوط ضحايا في تصادم قطارين في محافظة سوهاج جنوب القاهرة https://t.co/sWahRA10B8

— ا لـ ـعـ ـر بـ ـيـ ـة (@AlArabiya) March 26, 2021
Another Twitter user posted a video of the aftermath. 
#Egypt: Two passenger trains collide leading to dozens of reported casualties #Egypt #Sohag #Breaking https://t.co/SddjkRVd73 pic.twitter.com/UF5L1LEmNa

— 🌎 Sarwar 🌐 (@ferozwala) March 26, 2021
Poor Egypt this week, first the Suez Canal crisis and now Sohag. 
*This story is developing… 
Tyler Durden
Fri, 03/26/2021 – 07:30