UK Reports 6,500 COVID-Related Prosecutions In First Six Months Of Pandemic
UK Reports 6,500 COVID-Related Prosecutions In First Six Months Of Pandemic
Authored by Alexander Zhang via The Epoch Times,
Almost 6,500 offences related to the CCP virus were prosecuted in the UK in the first six months of the pandemic, according to statistics published by the Crown Prosecution Service (CPS) on Thursday.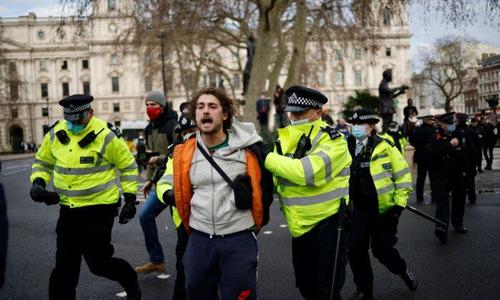 Between Apr. 1 and Sept. 30 last year, 2,106 defendants were prosecuted for 6,469 CCP (Chinese Communist Party) virus-related offences, with a conviction rate of 90 percent.
DPP @MaxHillQC said: "We are determined to see criminality during lockdown periods reflected in court. Particularly appalling is the high number of assaults on emergency workers and I will continue to do everything in my power to protect those who keep us safe."

— CPS (@cpsuk) January 21, 2021
Almost 1,200 offences were prosecuted under the COVID-19 legislation, which forbids non-essential travel and unlawful gatherings.
In cases not prosecuted under the COVID-19 legislation, the CPS has introduced a "coronavirus flag" on its case management system to highlight crimes related to the CCP virus as an aggravating feature at sentencing.
Among all CCP virus-related offences, assaults on emergency workers were the most common, with 1,688 offences charged.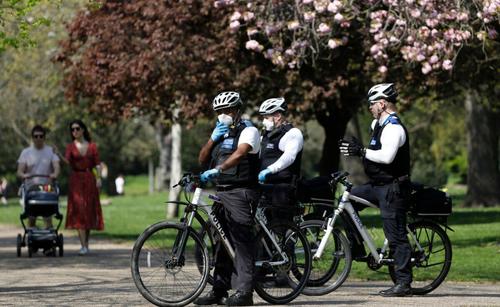 Officers of the Metropolitan Police patrol in Victoria Park, east London, on April 11, 2020. (Tolga Akmen/AFP via Getty Images)
Many of the assaults were committed against police officers, who were coughed at, spat on, kicked, bitten, or hit with heavy objects when trying to stop suspected breaches of CCP virus restrictions.
Max Hill QC, Director of Public Prosecutions, said the high number of assaults on emergency workers was "particularly appalling."
"I will continue to do everything in my power to protect those who so selflessly keep us safe during this crisis," he said.
The UK has been under varying levels of CCP virus restrictions since the pandemic began last spring.
Earlier this month, Prime Minister Boris Johnson put the whole of England under the third national lockdown to curb the spread of a new variant first detected in southeast England, which he said had a higher transmissibility than the old variant.
Police forces, including the Metropolitan Police in London, have said they are taking a stricter approach to enforcing the lockdown rules.
Martin Hewitt, chair of the National Police Chief Council, said on July 13 that he would make "no apology" for the almost 45,000 fixed penalty notices (FPN) that had been issued against rule-breakers.
Even police officers have sometimes found themselves on the wrong side of the law.
The Metropolitan Police said on Wednesday that nine of its officers had been fined after they were caught dining in a local café.
Tyler Durden
Fri, 01/22/2021 – 03:30