UMich Sentiment Survey Softens In January As Inflation Expectations Jump
UMich Sentiment Survey Softens In January As Inflation Expectations Jump
After rebounding in December, on a surge in Democrats' hope, UMich Sentiment was expected to weaken in preliminary January data as lockdowns persisted and election tensions grew and it did with the headline number dropping from 80.7 to 79.2 (below the 79.5 exp).
The gauge of current conditions fell 2.3 points to 87.7, while a measure of expectations dropped 0.8 point to 73.8, according to the survey conducted Jan. 2-13.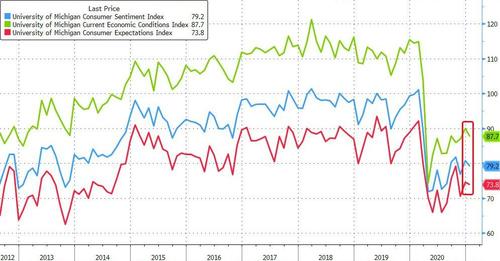 Source: Bloomberg
Meanwhile the rich get richer…
"When asked to explain how their financial situation had recently changed, higher incomes were more likely to be cited by those with incomes in the top third and by consumers under age 45, and higher net wealth holdings by consumers aged 65 or older as well as among those with incomes in the top third."

"Across all households, an annual income gain of 1.7% was anticipated in January 2021, between last month's 1.5% and last year's 2.3%."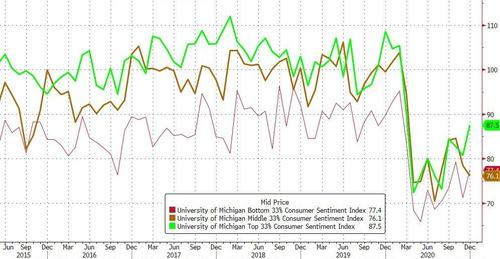 Source: Bloomberg
But, most notably, inflation expectations are surging. Consumers expect a year-ahead inflation rate of 3, up from 2.5% readings both last month and a year earlier. The five-year estimate rose to 2.7% from 2.5%.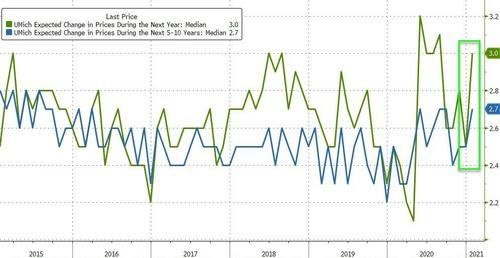 Source: Bloomberg
The weakness overall came as Democrats' sentiment soared further as Republicans' confidence tumbled…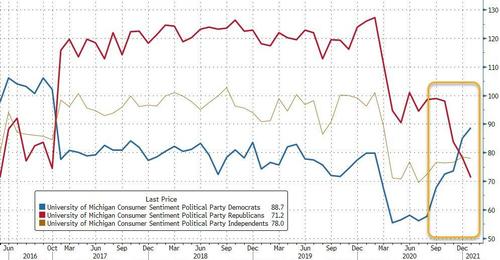 Source: Bloomberg
The Trump and Biden partisan gaps in expectations are too extreme to be justified by economic fundamentals. Rather, the partisan gaps are rooted in sharply different policy preferences, with one side favoring economic growth and efficiency, and the other side giving top priority to greater equity and fairness in the distribution of income and wealth. Nonetheless, the most critical task for Biden is to not only accomplish his promised vaccination of 100 million in his first 100 days, but to accelerate on that pace for the balance of the population.
Tyler Durden
Fri, 01/15/2021 – 10:09