US Cancels Top UN Envoy's Provocative Trip To Taiwan, Avoiding China Showdown
US Cancels Top UN Envoy's Provocative Trip To Taiwan, Avoiding China Showdown
The ultra-provocative high level US delegation that was expected to arrive in Taiwan this week has been canceled amid Tuesday's last minute announcement by Trump's State Department to cancel all travel, including Pompeo's trip to Brussels where he was to meet with EU leaders.
The US Ambassador to the UN Kelly Kraft's trip to the island was expected to begin Wednesday, and appeared part of a broader strategy aimed at stoking tensions further with China just ahead of Biden entering the White House.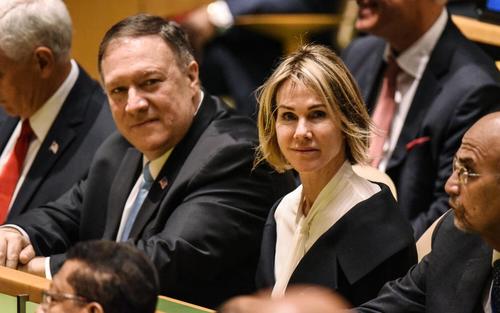 "The US State Department's cancellation of all travel this week includes a planned visit to Taiwan by US Ambassador to the United Nations Kelly Craft, a State Department spokeswoman said on Tuesday," Reuters wrote.
When Craft's trip was first announced last week, Beijing blasted the move as a "crazy provocation" for which the United States would pay a "heavy price" should it move forward with sending the high ranking ambassador to Taipei.  "We wish to remind the United States that whoever plays with fire will burn himself," the Chinese mission to the UN had said in a statement. 
But with the trip called off now with a mere week to go till the presidential transition, it appears the crisis has been averted. It was only on Saturday too that Mike Pompeo declared he would lift prior decades-long restrictions on contacts been American officials and their Taiwanese counterparts in what appeared major first efforts at rolling back the 'One-China' policy.
According to sources cited in Bloomberg, the administration has been increasingly worried about a potentially worsened security situation for its delegations abroad given last week's mayhem and crisis on Capitol Hill: 
Top US officials abruptly canceled international travel this week out of concern foreign adversaries could exploit a historic political crisis – and that President Donald Trump and his White House are under too much strain to contend with them, according to multiple people with direct knowledge of the situation.
The government of Taiwan said it regrets the cancelation but also expressed "understanding and respect" for the decision.
"The Ministry of Foreign Affairs regrets that the U.S. Ambassador to the United Nations Kelly Craft cannot lead a delegation to visit Taiwan from Jan. 13 to 15 as scheduled, but welcomes Ambassador Craft to visit at an appropriate time in the future," an official statement reads.
Tyler Durden
Wed, 01/13/2021 – 13:45