US COVID Hospitalizations Post First Drop In Months…But BofA Has Some Bad News
US COVID Hospitalizations Post First Drop In Months…But BofA Has Some Bad News
Just a couple of weeks ago, while Joe Biden and Dr. Fauci were warning about a "long dark winter" ahead and encouraging local leaders in the US (along with their colleagues in the EU) to prepare for the worst to come, the COVID-19 situation internationally was looking pretty bleak.
But as more Americans and Europeans grow increasingly skeptical of the official narrative, with many – including front-line hospital workers – declining to receive the vaccine, the most recent wave of cases and hospitalizations has packed hospitals across the country, which are desperate for a reprieve. Some 130K Covid patients are being cared for currently. Meanwhile, the country posted 213,885 cases on Tuesday, pushing the seven-day average to 246,133, Covid Tracking Project data show.
Across the US, at least 380,825 people have died, according to Johns Hopkins University data.
However, the number of hospitalized COVID-19 patients was roughly flat in the US this week, and likely will begin declining for the first time since September as the world heads into mid-January, despite all those warnings about the worst months lying ahead, along with the flurry of new mutated strains that purportedly infect people more quickly.
This shift has got thousands of professionals wondering: has the outbreak finally peaked?
And if so, how come officials are insisting that humans, even those who have received both doses of the vaccine, continue to social distance and wear masks?
The numbers are now dropping compared with a week earlier in both the Northeast and Midwest, according to the Covid Tracking Project.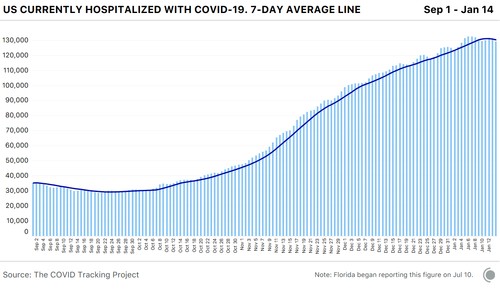 In the West, they were up 0.8%, the least since Oct. 1 on a percentage basis. The South has the most alarming momentum, with an increase of 4.2% from seven days earlier.
Deaths and cases appear to finally be rolling over, but BofA is less optimistic:
As has often been the case during this crisis, there is a race going on between the negative impact of the COVID crisis and the fiscal policy offset. With the holidays behind us, there is tentative evidence that COVID cases are starting to level off. However, we do not expect much of a slowing in the next couple months. Indeed, if the new UK strain spreads, cases will probably start increasing again. Given the usual lags, hospitalizations and fatalities could trend higher for the next few weeks. As we have noted before, hospitalizations seem to be the main driver of social distancing rules, suggesting more tightening to come.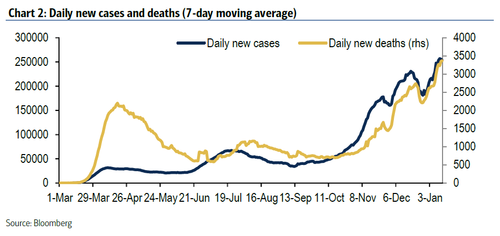 But while analysts at BofA are preoccupied with the new mutant hyperinfectious strains, a team at Goldman Sachs recently explained why hospitalizations and deaths will likely decline in the US and Europe in the coming weeks and months.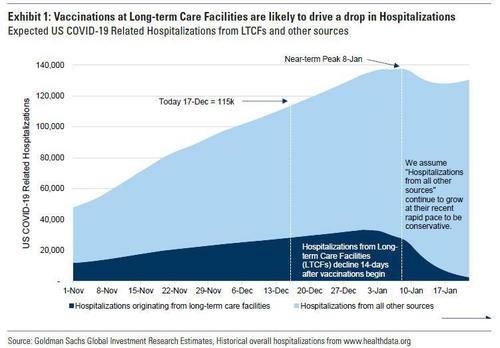 As it turns out, vaccinating long-term care facility patients first has effectively taken many of the most high-risk individuals out of harm's way.
Tyler Durden
Fri, 01/15/2021 – 08:10