US Housing Enters 2021 In A Massive Bubble
US Housing Enters 2021 In A Massive Bubble
On December 16, Fed Chair Jerome Powell was specifically asked if he is seeing any signs of "valuation pressures" in the US housing market which according to the latest Case Shiller data was surging at the fastest pace in 6 years.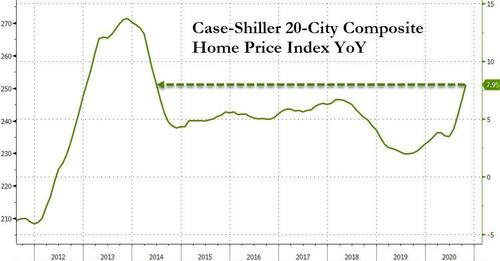 Predictably, Powell was not concerned about the recent surge in home prices and he said as much during the Q&A: "I would say from a financial stability standpoint, housing prices are not of a level of concern right now. That's just reflective of a lot of demand. And builders are going to bring forth supply…. Housing prices themselves are not a financial stability concern at the moment. We will watch that carefully. But in the near term, I wouldn't think that that's an issue that we'd be concerned about."
Needless to say, we disagree because one place where the trillions in newly created liquidity has ended up…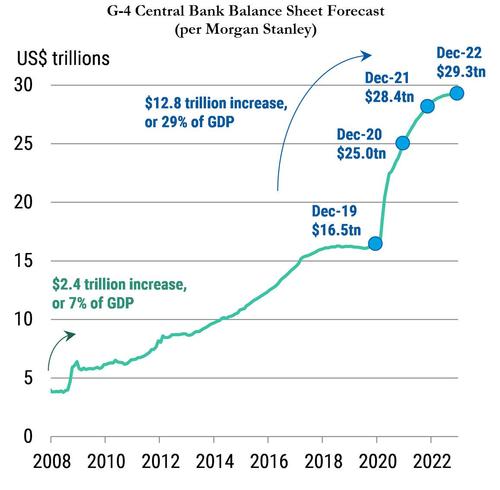 … is the housing market as the following stats and charts from Goldman reveal:
-100bp: 30-year mortgage rates fell by 100bp between 2019Q4 and 2020Q4.
+29%: single-family housing starts increased by 29% nfrom October 2019 to October 2020.
+7.0%: the Case-Shiller US house price index has grownn by 7.0% from 2019Q3 to 2020Q3.
80%: 80% of outstanding conventional 30-year mortgage borrowers have a 50bp or larger refinance incentive as of 2020Q4 (up from 50% in 2019Q4).
$2.8tn: agency MBS issuance YTD has totaled $2.8tn (up from $1.4tn YTD in 2019).
$800bn: Federal Reserve agency MBS holdings increased by $800bn over the past year.
With that in mind, here is Goldman's housing activity tracker. If this isn't a bubble…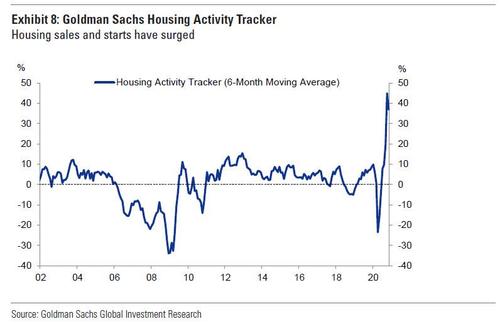 Not convinced? Virtually every data series is experiencing a V-shaped recovery.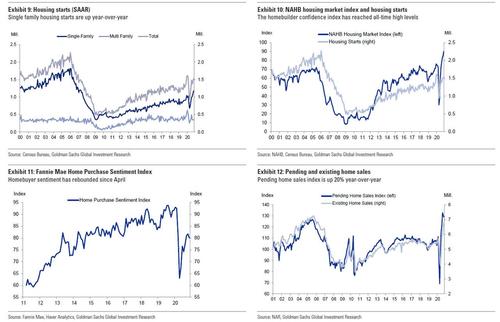 As demand soars, prices have no way to go but up because supply is plunging: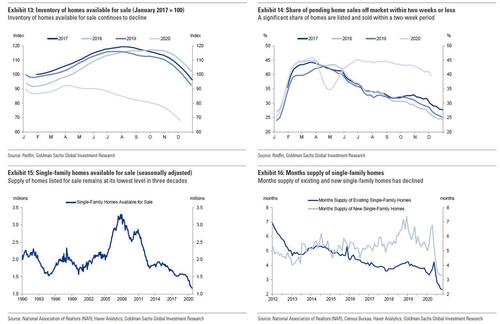 As are mortgage rates, which hit rock bottom records over a dozen times in 2020…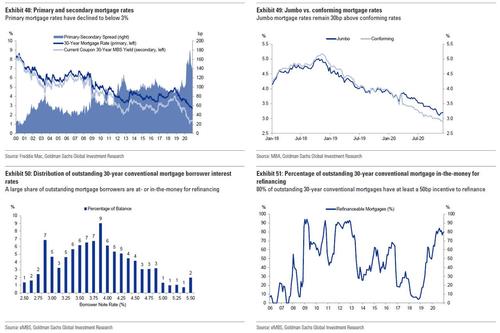 … thanks to the Fed which has been on an MBS buying spree, purchasing more than $100 billion in mortgage backed notes in November alone: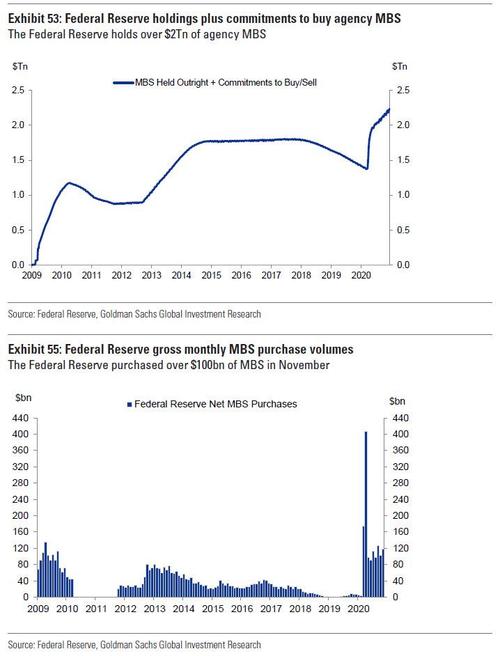 Meanwhile getting a loan remains quite easy despite some recent tightening in lending standards: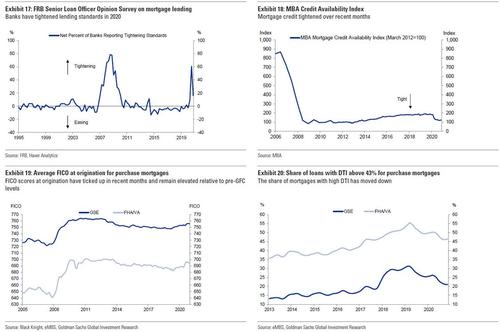 Surging home prices of course mean that young Americans can't afford to buy, and a record 34% of them now live with their parents…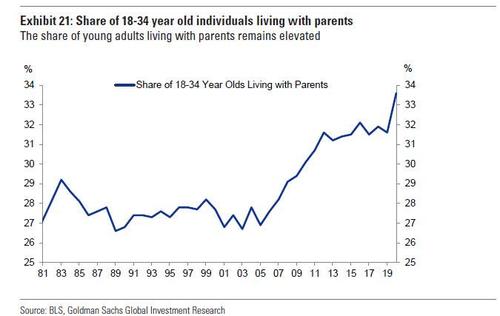 … even as household formations are rising…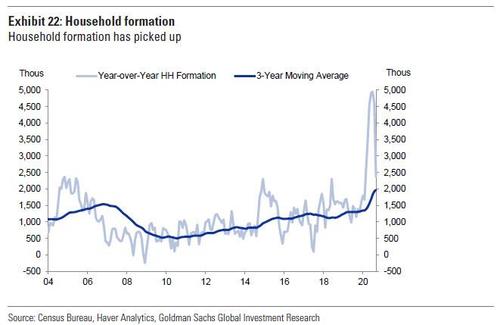 … forcing most younger workers to rent, pushing the rental vacancy rate to all time lows…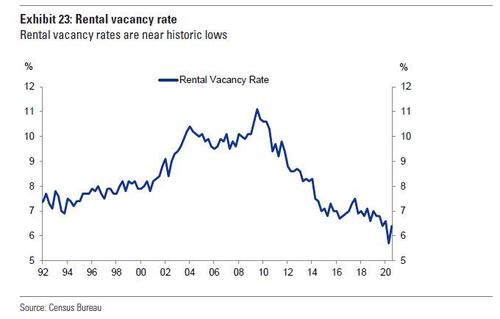 … even as other age cohorts leave cities and buy, pushing the homeownership rate sharply higher.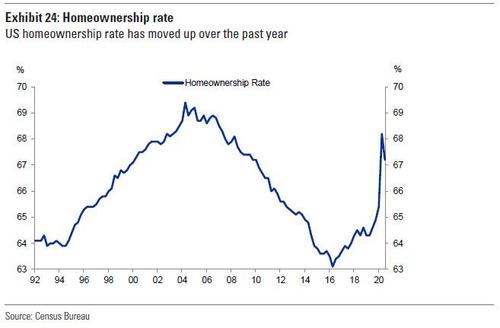 While high prices may be ultimately unsustainable, the recent burst in stimulus payments means that the ratio of household financial obligation payments to disposable personal income is at an all time low…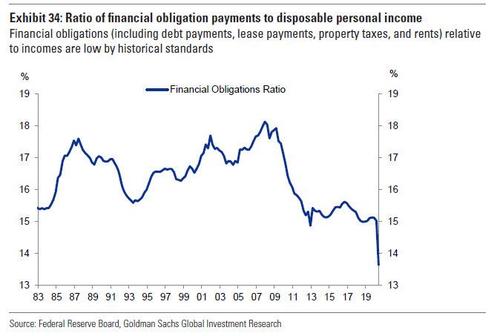 … as is the debt service ratio, mostly thanks to record low rates.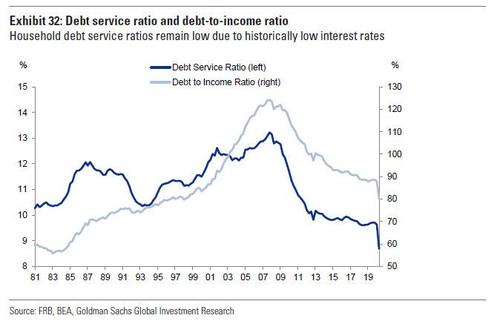 Finally, while there has been a modest drop in forbearance plans, the fact that so many Americans continue to live mortgage free – indefinitely – is yet another factor pushing prices up.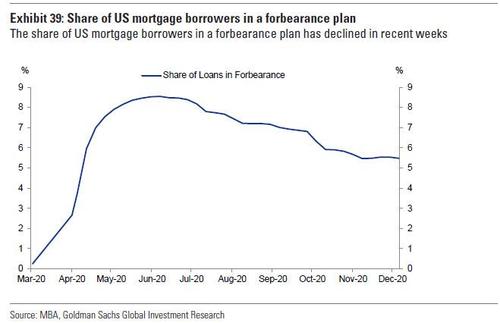 So between the plunge in supply, the surge in demand, and the ongoing stimulus booster shots, the effect on prices is quite clear: as the chart below shows, the median prices of new and existing single-family homes is at or near all time highs…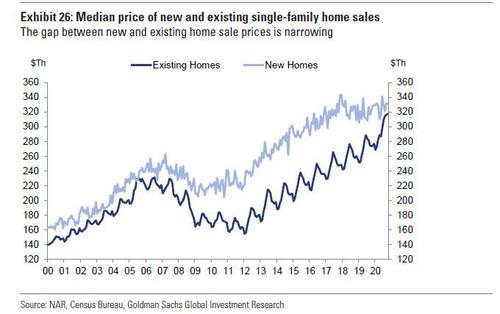 … which has dropped the percentage of mortgage properties with negative equity to the lowest it has been on record…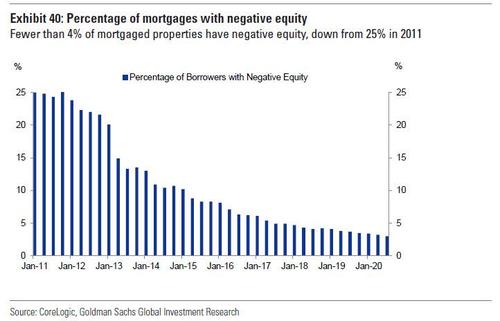 … while the annualized Q/Q home price appreciation is the highest since the financial crisis.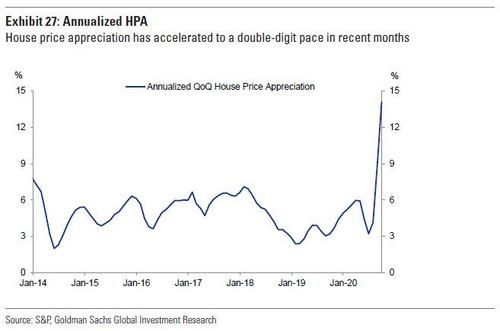 In short: between the Fed's record low rates, Congress' fiscal stimulus checks, record debt-fueled demand, and historically low supply the housing market is now even hotter than it was during the peak of the 2006/7 housing bubble.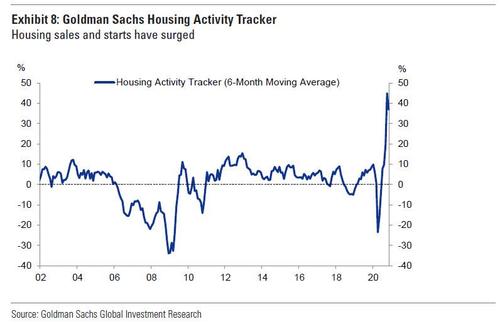 And since the Fed won't do anything to address this – as per Powell's comments – and the Fed will certainly not hike rates, one wonders what will happen some time in 2021 or 2022 when we will live through the collective bursting of both the biggest stock market and housing bubble at the same time. Actually no – there in no need to wonder: all of this is set to take place right around the time the Fed switchs to digital dollars…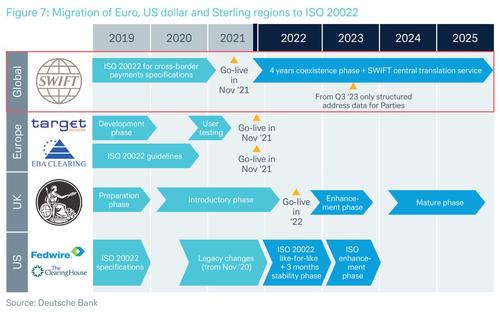 … effectively ensuring that it can deposit digital money to everyone, any time and anywhere, guaranteeing that nothing will ever pop the world's biggest asset bubble.
Access to the full report available to all professional subscribers
Tyler Durden
Fri, 01/01/2021 – 13:00