US Manufacturing Surveys Soar As Supply Chain Disruptions Spark Surge In Prices
US Manufacturing Surveys Soar As Supply Chain Disruptions Spark Surge In Prices
Despite tumbling 'hard' economic data, US Manufacturing survey data continues to suggest everything is awesome… almost as awesome as it has ever been.
Markit US Manufacturing PMI printed at 59.1 in final March data (meeting expectations) after dipping to 58.6 in February.

ISM Manufacturing crushed expectations with a 64.7 print (higher than the highest forecast, median forecast was 61.5)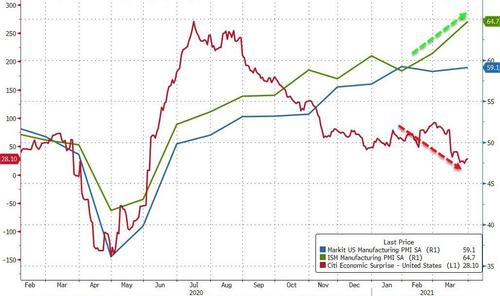 Source: Bloomberg
This places the Markit survey near its record highs (and ISM at its highest since 1983)…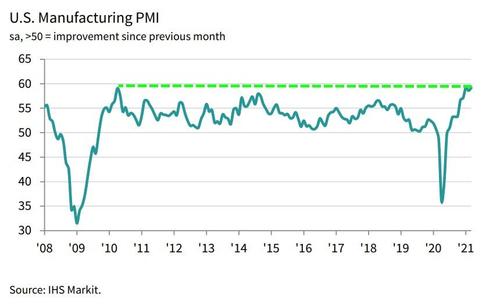 Supply chain disruptions dominated narratives from survey respondents as manufacturers signalled the greatest deterioration in vendor performance since data collection began in May 2007.
Shortages of semiconductors have been particularly disruptive to the auto industry, where production in recent months has been restrained due to the lack of supply. On Wednesday, Ford Motor Co. announced it was idling plants that make its best-selling F-150 pickup truck because of chip shortages.
All of which has sent supplier delivery times significantly higher…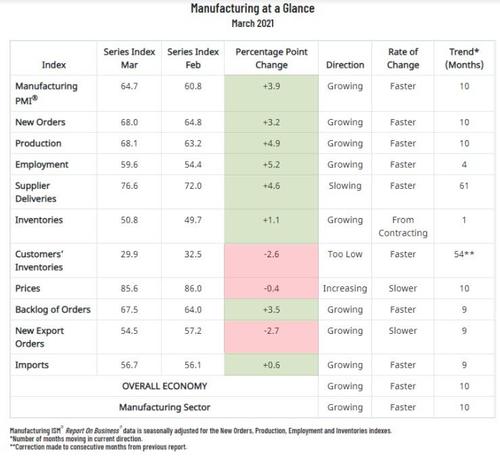 And that disruption – combined with stimulus-check-driven demand left prices paid at extreme highs…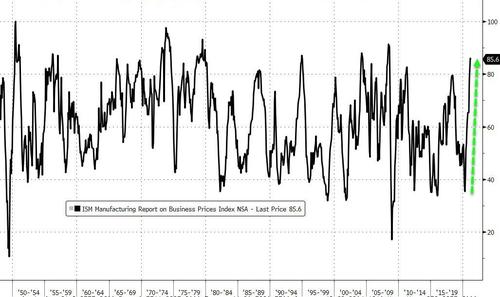 "Widespread supply chain issues. Suppliers are struggling to manage demand and capacity in the face of chronic logistics and labor issues. No end in sight." (Machinery)
Chris Williamson, Chief Business Economist at IHS Markit said:
"March saw manufacturers struggle to cope with surging inflows of new orders. Although output continued to rise at a solid pace, capacity is being severely strained by the combination of soaring demand and supply chain disruptions: supply chain delays and backlogs of uncompleted orders are growing at rates unprecedented in the survey's 14-year history, meaning inventories of finished goods are falling at a steep rate.

"Pricing power has risen accordingly as demand outstrips supply: raw material prices are increasing at the sharpest rate for a decade and factory gate selling prices have risen to a degree not seen since at least 2007.

"The fastest rates of increase for both new orders and prices was reported among producers of consumer goods, as the arrival of stimulus cheques in the post added fuel to a marked upswing in demand as the economy continued to pull out of the malaise caused by the pandemic.

"With business expectations becoming even more optimistic in March, further strong production growth looks likely in the second quarter, but the big question will be whether rising price pressures also become more entrenched."
But, hey, we shouldn't worry – The Fed says it has everything under control and any inflationary impulse is transitory.
"Things are now out of control. Everything is a mess, and we are seeing wide-scale shortages." (Electrical Equipment, Appliances & Components)
Many readers may not recall, but one such instance of "transitory" inflation that proved to be anything but and led to the infamous Volcker Fed and its double digit rate hikes, was the price of oil which took off in the Arab oil embargo and then refused to come back for over a decade.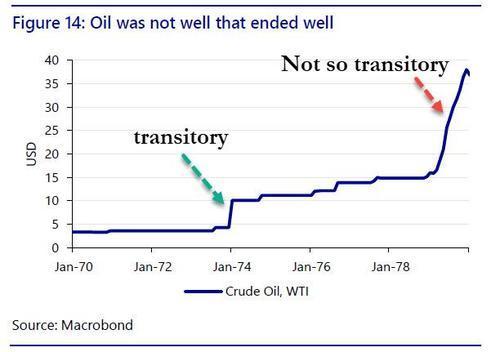 The Powell Fed, however, is eager to brush aside any analogues to previous episodes of runaway inflation which it sees as having a demand component, and merely ascribes what is taking place to unprecedented supply chain disruptions – i.e., collapse in supply – as a result of both the trade war with China and, more recently, the covid pandemic, which have unleashed chaos among traditional supply-chain intermediaries.
Tyler Durden
Thu, 04/01/2021 – 10:04