US PMIs Slow In Early December Data As Services Slump, Prices Soar
US PMIs Slow In Early December Data As Services Slump, Prices Soar
Tyler Durden
Wed, 12/16/2020 – 09:51
Despite slumping 'hard' data, US PMIs have been soaring in recent months but analysts expected them to show slowing growth in preliminary December data (which follows very weak retail sales data in November). The print was weaker for both services and manufacturing (while the former missed expectations while the latter beat)
Markit US Services PMI MISS – 55.5 vs 55.9 exp vs 58.4 prior

Markit US Manufacturing PMI BEAT – 56.5 vs 55.8 exp vs 56.7 prior
Catching down to 'hard' data reality…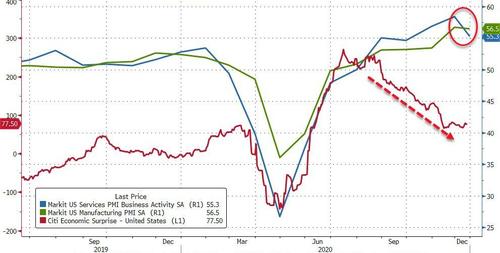 Source: Bloomberg
This combination pushed the US Composite PMI to 3-month lows (as th Eurozone composite rises)…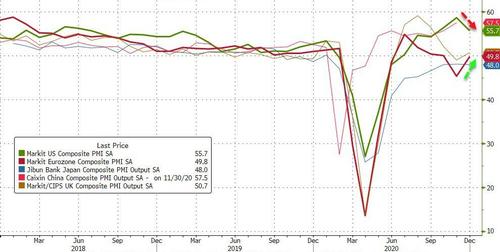 Source: Bloomberg
Commenting on the PMI data, Chris Williamson, Chief Business Economist at IHS Markit, said:
"Business reported that the US economy lost growth momentum in December, though encouragingly continued to expand at a solid pace. The survey data add to the likelihood of the economy having continued to expand in the fourth quarter, building on the recovery seen in the third quarter.

"However, while November had seen business buoyed by increased activity around Thanksgiving as well as a surge in business confidence following the Presidential election and encouraging vaccine news, December has seen companies rein in their expectations, given the higher virus case numbers and tougher lockdown stances adopted in some states. Lockdowns in other countries were meanwhile reported to have hit exports.

"While vaccine developments mean some of the cloud caused by the pandemic should lift as we head through 2021, rising case numbers continue to darken the near-term outlook. In particular, resurgent virus numbers were cited as a key factor behind a pull-back in hiring, hinting that the labour market has cooled amid growing caution among employers. Other costs have meanwhile risen, linked to rising raw material prices and supply shortages caused by the pandemic, acting as a further strain on businesses."
Of all the data within the report, the following is perhaps most noteworthy: The rate of cost inflation accelerated once again to a new record high, as supplier prices and the soaring cost of PPE pushed cost burdens up. Firms only partially passed on higher prices, however, in an effort to boost sales.