US Reports Most New COVID Cases In A Month With Blue States In The Lead
US Reports Most New COVID Cases In A Month With Blue States In The Lead
At this point, the spread of SARS-CoV-2 and the various mutant strains has been accelerating for five weeks as restrictions on businesses and movement have been relaxed. Over in the US, which ceded its position as the worst outbreak in the world to Brazil back in February, when the 7-day average for Brazil's daily tally per million population topped the US's for the first time.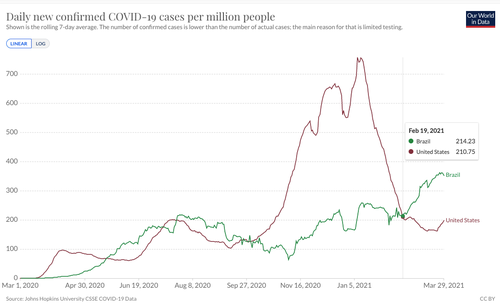 While the outbreak in Latin America's largest economy continues to spin out of control, the US on Tuesday reported just under 70K new cases, the highest number in a month, as infections rise in half of US states, with some of the biggest accelerations seen in New York, New Jersey and Michigan. Over the past week, the average number of new cases has risen by 24%, according to Johns Hopkins data. 25 states and Washington DC are reporting more cases.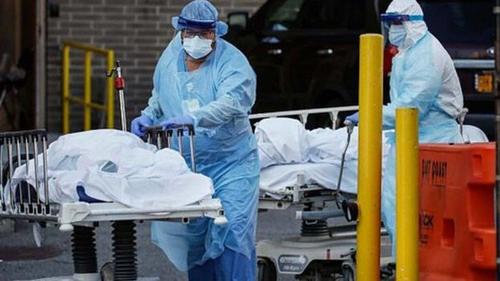 Fortunately deaths continued to slow, with the US reporting fewer than 1K deaths.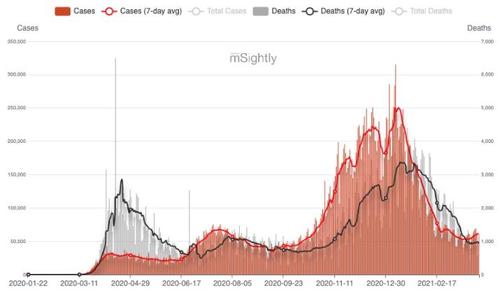 Source: mSightly
11 states are currently in the highest "risk level" for COVID, nearly all of them are northeastern blue states (aside from Michigan and Minnesota, although both of those states are also run by Democrats).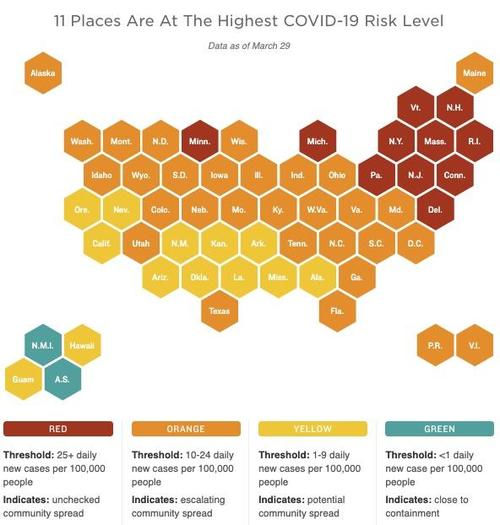 Source: mSightly
The increase comes even as the US is vaccinating nearly 3MM people a day, and with practically every state preparing to open vaccinations to adults of all ages, if they haven't already.
Michigan is leading average new cases with a 14% rise over the past week and a 208% increase over the past month.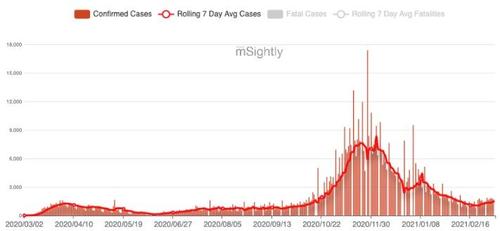 Cases in New York have risen by nearly 10% over the previous week and the test positivity rate has remained above 3% for the last month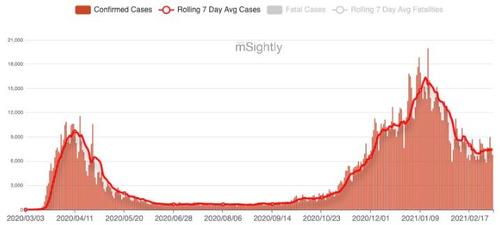 New Jersey recorded 346.4 cases per 100,000 people over the last seven days, the highest rate in the nation.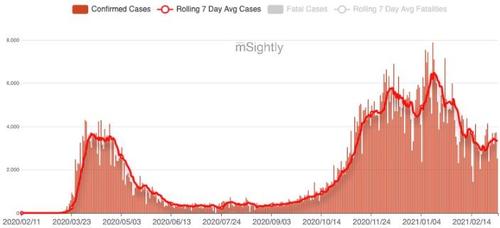 Circling back to the national numbers, while the current rate is far below January's peak of 247K new cases per day, it is in line with the July surge, where daily cases averaged about 68,000.
The numbers complement the head of the CDC's warnings about "impending doom", which were widely ridiculed yesterday. In his latest warning, Dr Nicholas Reich, a biostatistician at the University of Massachusetts Amherst, warned "we're skating on a knife's edge right now."
"We have so much to look forward to, so much promise and potential of where we are and so much reason for hope," she said. "But right now, I'm scared."
New York is the states where coronavirus is spreading the fastest "on a per-person basis."
Meanwhile, red states like Texas, which have been the focus of mainstream media attention as their governors have reopened their economies, and even though vaccination rates are lagging some of their northern peers, infection rates haven't bounced back like they have in New York, Michigan and other states like Connecticut.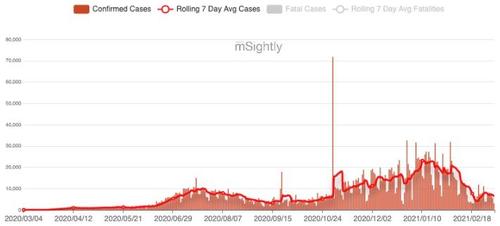 Unsurprisingly, the rebound in New York – centered around NYC – hasn't stopped Gov. Andrew Cuomo from pressing ahead with his plans to reopen the state's economy. Yesterday, the governor announced that the vaccine eligibility age would drop to 30 as of next Tuesday, Cuomo said earlier that college sports could welcome back fans on Friday, albeit with relatively restrictive social distancing numbers.
Tyler Durden
Tue, 03/30/2021 – 21:45