US Services Sector Disappoints In December As Costs Soar
US Services Sector Disappoints In December As Costs Soar
After US Manufacturing PMI 'surprisingly' beat and jumped to 7 year highs (thanks to the fallacy of attributing surging Supplier Delivery Times as a positive rather than lockdown-based supply chain disruptions), Europe's PMI disappointed this morning and analysts expected US Services PMI to slide slightly further than its preliminary print for December.
Markit US Manufacturing PMI BEAT at 60.7 vs 56.8 exp vs 57.5 prior – best since 2014

Markit US Services PMI MISS at 54.8 vs 55.2 exp vs 55.3 flash vs 68.4 prior – slowest in 3mos
And those PMIs hit as 'hard' economic data is dumping (and ADP sees joblessness on the rise)…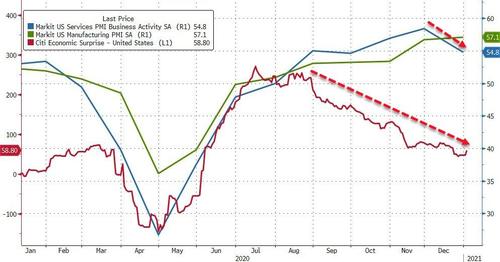 Source: Bloomberg
Despite cost burdens rising at the sharpest pace since data collection began in October 2009, service sector firms sought to limit selling price increases in an effort to boost sales. Manufacturers, however, raised their output charges at the steepest rate since May 2011.
Alongside a slowdown in domestic demand growth, service sector firms registered the first contraction in new business from abroad since May. Panellists often stated that the fall in foreign client demand stemmed from greater travel restrictions imposed due to the ongoing pandemic. The rate of decline was solid overall, but was much softer than those seen in the spring at the start of the pandemic.
The Services print completes the picture for the US Composite PMI which eased further, now weaker than China…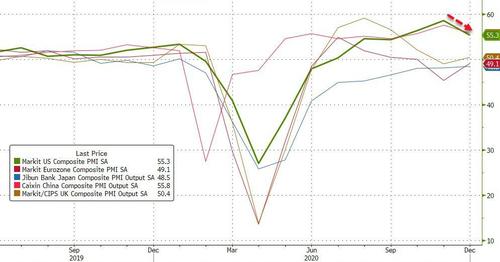 Source: Bloomberg
Commenting on the latest survey results, Chris Williamson, Chief Business Economist at IHS Markit, said:
"Rising virus case numbers took an increasing toll on the US economy in December, with business activity, order books and employment all growing at much reduced rates. The slowdown was especially steep in the service sector, where stricter social distancing measures hit consumer-facing businesses in particular.

"More encouragingly, businesses remain much more confident about the outlook in a year's time than before the successful vaccine developments, reflecting greater optimism for prospects of life returning to normal in the second half of 2021."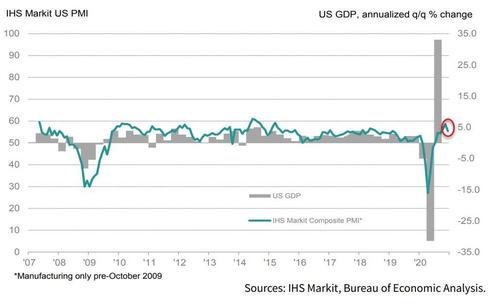 "While the survey data remained sufficiently resilient to indicate that GDP continued to expand at a relatively robust rate in the fourth quarter, the near-term outlook has deteriorated. Business expectations for the coming year fell considerably compared to November, as some postelection exuberance waned and companies grew more anxious about the ongoing impact of the pandemic. Rising case numbers represent an increased risk to the economy in the coming weeks, and hopes rest to a large extent on pandemic stimulus lifting the economy to prevent another downturn.
Tyler Durden
Wed, 01/06/2021 – 09:52