Viral Video Shows NYC Bike Thugs Attacking BMW In Manhattan
Viral Video Shows NYC Bike Thugs Attacking BMW In Manhattan
A pack of bicycle thugs in New York City were caught on film attacking a BMW on a Manhattan street in broad daylight.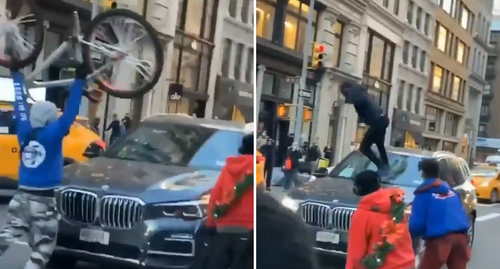 "Typical day in New York City!" tweeted account @NY_Actions in the clip which was posted just after Midnight on Wednesday morning. In it, attackers can be seen hitting, kicking, and elbow-dropping the BMW, while another uses his bicycle to smash the vehicle. Then, one of the bikers jumps onto the hood and windshield of the car, causing it to partially cave in according to the New York Post.
broad daylight on 5th ave / 21st St About 50 young boys on bikes blocked 5th ave traffic & trashed an SUV, riders inside, jumping on the windshield. Car had medical license plates & a man & older woman inside.#NYC#NewYorkCity #outofcontrol
pic.twitter.com/QyebksbsTK

— NY Actions (@NY_ACTIONS) December 30, 2020
We're sure the mainstream media, should they even report this, will note that none of the youths appeared to be wearing a mask or social distancing – but that's apparently only for conservatives.
"This was an animalistic attack in broad daylight," a Manhattan police officer told the Post, adding "It shows how far the city has deteriorated and the politicians better get their heads out of the sand and start to deal with these problems before there is nothing left."
The occupants of the BMW, a man and woman in their 50s, were scared for their lives according to the officer. Meanwhile, the thugs reportedly attacked a a short while later.
Tyler Durden
Wed, 12/30/2020 – 17:20