Volkswagen Says "Bogus" Name Change That Popped Stock 5% Was "April Fool's Joke"
Volkswagen Says "Bogus" Name Change That Popped Stock 5% Was "April Fool's Joke"
Either VW has gotten one over on some analysts, or the company's PR department made a last minute clawback of a proposed name change for the company. Either way, the company appears to be doing its best Elon Musk impression not only with EVs, but also with making false announcements to the market. 
We're talking, of course, about the recent news that Volkswagen would be changing its name in the U.S. to "Voltswagen", a nod to the company's focus on EVs going forward and an idea that may or may not have originated from our Twitter feed to begin with.
You're welcome VW https://t.co/6Njx10ke46

— zerohedge (@zerohedge) March 30, 2021
The company came out yesterday and admitted to the press – who have mostly been unamused by the antic, judging by the tone of a recent AP piece – that the idea for the name change was just an "April's Fool's Joke".
"Mark Gillies, a company spokesman, confirmed Tuesday that the statement had been a pre-April Fool's Day joke after having insisted Monday that the release was legitimate and the name change accurate. The company's false statement was distributed again Tuesday, saying the brand-name change reflected a shift to more battery-electric vehicles."
AP referred to the company's stunt as "false statements", "bogus" and said that "Volkswagen's intentionally fake news release, highly unusual for a major public company, coincides with its efforts to repair its image…"
The news organization also pointed out that Volkswagen could find itself in hot water with securities regulators, due to the fact that its stock rose 5% on the initial headlines of the name change. Using Elon Musk as a case study over the last 36 months, we're not sure if we agree. 
But, we digress. The fake name change also helped put on display the continued uselessness of sell-side research, as Wedbush hurried out a note on March 30, called "Disruptive Technology", that spent several paragraphs explaining why Volkswagen's name change spoke to their "EV vision" and praising the company, even going so far as to suggest they could wind up as partners with Apple. 
"We believe the name change underscores VW's clear commitment to its EV brand and massive EV endeavors over the coming years…" the note says.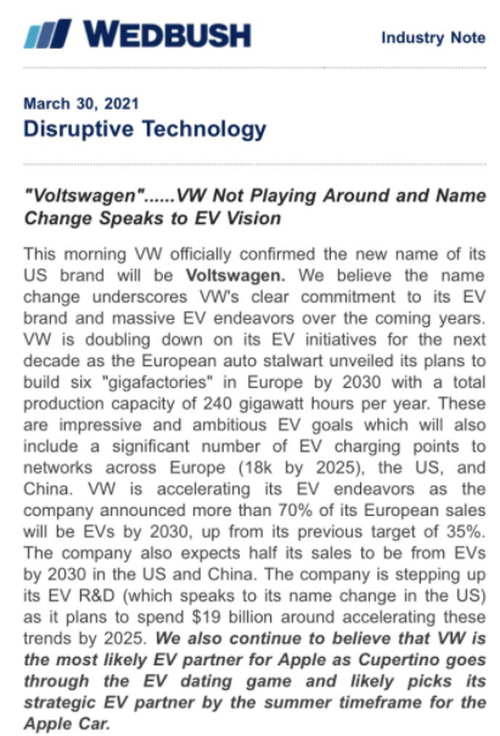 We think Erik Gordon, a business and law professor at the University of Michigan, said it best when he told AP: "I don't think the SEC is going to see this as stock price manipulation any more than when General Motors or Ford or Toyota or anybody talks about their (electric vehicle) future. It is incredibly stupid, but if being stupid were illegal, a third of the CEOs in the U.S. would be in jail."
Tyler Durden
Wed, 03/31/2021 – 08:15