Wall Street Analysts Respond To Gamestop Earnings, Stock Plunge
Wall Street Analysts Respond To Gamestop Earnings, Stock Plunge
GameStop shares sank 12% premarket after its mixed fourth-quarter report, which Telsey Advisory describes as "a bit anti-climatic" and whose conference call left investors with many unanswered questions, the analysts wrote. While Wall Street views diverged (with Jefferies hilarious lifting its GME price target from $15 to $175) , the consensus was that GameStop's 4Q results were mixed and reflected the video-game retailer's group's strategy to shift to an e-commerce model.
Shares of  GME, the name most associated with the recent retail-trading frenzy, fall 11% in U.S. premarket.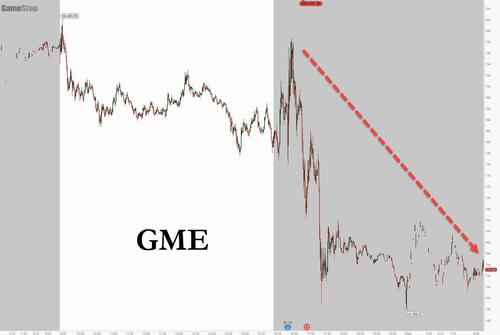 … even though WallStreetBets sentiment remained predominantly positive according to Swaggy Stocks.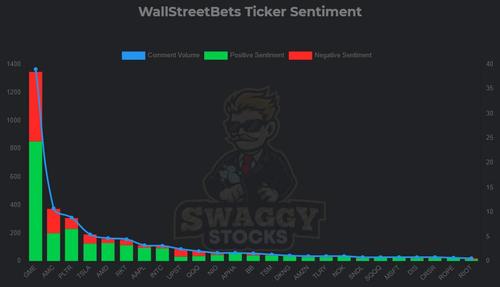 Here is a snapshot of what several Wall Street analysts thought of the company's results, courtesy of Bloomberg:
Telsey (underperform):
"While everyone was expecting big news about some massive digital transformation in the mold of the new tech- oriented board members, nothing was said" and management didn't even take questions on the call, analyst Joseph Feldman writes
Strategic plan was similar to every other retailer: invest in technology, build a superior customer experience, expand the product offering, modernize fulfillment operations, and leverage digital assets
"While there is nothing wrong with the strategy, it seems rather 'normal'… it is not the transformational commentary most were expecting to hear"
Wedbush (downgrades to underperform from neutral): Downgrades on valuation after short squeeze seen over recent months has elevated the stock price to "levels that are completely disconnected from the fundamentals of the business," writes analyst Michael Pachter
Boosts PT to $29 from $16, reflecting "excellent execution by current and former management"
Says GME has reduced its net debt from a balance of over $100m to a net cash surplus of over $200m in less than two years; "financial engineering accomplished during Mr. Sherman's [CEO George Sherman) tenure is a testament to his leadership and to the financial acumen of departing CFO Jim Bell"
Baird (neutral) says results are mixed, with total sales and margins missing expectations, but console demand exceeding supply
This robust hardware demand provides a "lifeline" to the company as it transitions to an e-commerce model, analyst Colin Sebastian writes
New hires are "clearly an effort to replace GameStop's traditional retail DNA" with executives experienced in e- commerce, digital transition and omni-channel operations
Shares pricing in an "optimistic bright blue sky scenario" including a multiple on physical retail sales close to e-commerce valuations, with volatility being influenced by "external factors"
Jefferies analyst Stephanie Wissink (hold) says the results reflect the changes underway in the model and balance sheet should provide a "stable base" to pursue this
Broker recasting its model and valuation for the shift toward e- commerce and digital and PT raised to $175 from $15 to reflect this
Source: Bloomberg
Tyler Durden
Wed, 03/24/2021 – 08:23