Wall Street Dealmakers Smash Records By Booking $200BN Over Christmas Holiday
Wall Street Dealmakers Smash Records By Booking $200BN Over Christmas Holiday
Although the business press treated the "SPAC" investment craze last year with a modest skepticism, these "reverse IPOs" were only the tip of the deal-frenzy iceberg.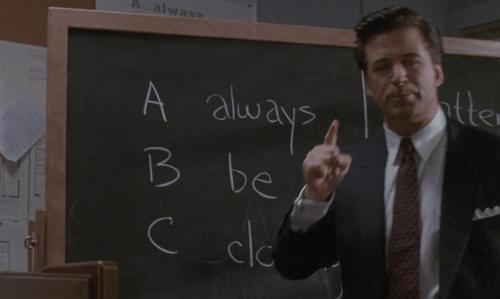 Late last year, we noted that JP Morgan had warned its analysts that their Christmas breaks would be unmercifully short due to the sheer volume of deal-flow. Now that the final numbers are in, it appears the final two weeks of 2020 saw a total of 2,496 deals, according to Bloomberg's count. That's the largest tally for a year-end period ever recorded by Bloomberg.
A total of 2,496 transactions were announced globally in the final two weeks of 2020, according to data compiled by Bloomberg. The deals represent some $187BN in total volume. That's the most for a festive fortnight on record, the data show.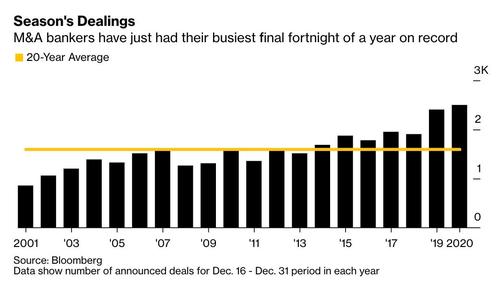 The largest deal during the period was buyout firm Thoma Bravo's $9.6BN purchase of property software maker RealPage. Additionally, Dyal Capital Partners said it would merge with Owl Rock Capital Partners, forming an asset manager overseeing some $45BN, while Lockheed Martin agreed to buy Aerojet Rocketdyne for $4.4BN to expand its space division.
"The deal activity over the Christmas period is reflective of the build-up that we started to see in third quarter 2020 and reflects pent-up capacity that had been building for some time," said Selina Sagayam, a corporate partner at law firm Gibson Dunn & Crutcher LLP.
Of course, "blank-check" SPAC deals remains popular. The most notable of those deals during this period involved a familiar name on Wall Street: boutique advisory firm Perella Weinberg Partners agreed to go public by combining with a vehicle sponsored by finance entrepreneur Betsy Cohen.
Over in the UK, Waterland Private Equity reached a deal to buy Priory Group, a chain of celebrity-focused rehabs.
To be sure, the record number might be an empty victory for some, as the biggest banks are expected to cut bonuses across the board this year (although top money makers might still walk away with an outsize share of the bonus pool).
Like stock markets, dealmakers made up for the COVID-19-inspired turbulence from the first half of the year, and then some.
"The double dip factor of the pandemic and Brexit that blighted 2020 have now been alleviated," said London-based Sagayam. "This certainly bodes well for general market sentiment and M&A in particular as we enter 2021."
Dealmakers told Bloomberg they expect business to continue to boom in 2021, a view that's echoed by their colleagues on the S&T side. 
Of course, this all depends on whether the Fed will keep the cheap money flowing, like it has for more than a decade now.
Tyler Durden
Tue, 01/05/2021 – 11:56