Washington Chaos May Raise Tail Risks For Beijing
Washington Chaos May Raise Tail Risks For Beijing
By Ye Xie, Bloomberg Markets Live commentator
Three things we learned last week:
1. Trump is keeping the pressure on China amid Washington turmoil.
Secretary of State Michael Pompeo provoked Beijing when he said that the U.S. will remove decades-old restrictions on how its diplomats approach Taiwan. The move raises tensions over the One China policy — a red line for Chinese leaders.
It suggests that the Trump administration isn't done taking on China, even as the president is besieged following a violent insurrection by his supporters at the Capitol. Lawmakers are pushing for him to be impeached, and a number of administration officials have resigned. Further hostility toward Beijing in his final days in office could set up more hurdles for Joe Biden to deal with China.
While Alibaba and Tencent were left off an updated U.S. Treasury list of Chinese companies considered to be tied to the military, it doesn't necessarily mean that the tech giants are off the hook. And more state companies, including oil firms, could be added to the list and kicked off of the U.S. exchanges. The risk of sanctioning a major Chinese bank also remains.
2. Foreign investors cannot get enough Chinese stocks.
Overseas investors bought a record net 21 billion yuan worth ($3.2 billion) of Chinese shares through the north-bound stock connection last week, as the CSI 300 hit a 13-year high. South-bound flows from mainland investors to Hong Kong also reached a record. China Mobile, which is excluded from major indexes and due to be delisted by the NYSE on Monday, was the most bought stock in the southbound program Friday. It looks like there are plenty of Chinese happy to take advantage of the forced selling from U.S. investors.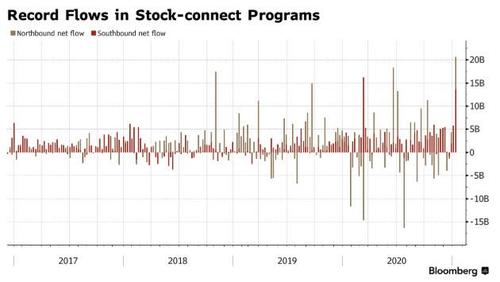 3. Reflation trades are all rage.
MSCI's global stock benchmark notched records as the Democratic sweep of Congress increases the odds for another round of stimulus in the U.S. Ten-year U.S. Treasury yields climbed above 1.1% and narrowed a gap with Chinese bonds. That didn't kept the yuan from rallying further, prompting Chinese policy makers to take more steps to slow inflows.
Tyler Durden
Sun, 01/10/2021 – 20:42