Watch: 700 Iran Navy 'Fast Boats' Swarm Persian Gulf As US Conducts Another B-52 Flyover
Watch: 700 Iran Navy 'Fast Boats' Swarm Persian Gulf As US Conducts Another B-52 Flyover
On Thursday a Pentagon official told Fox News that the US once again deployed a pair of B-52 bombers to conduct a Persian Gulf flyover as a new 'warning' to Iran, this following a similar publicly disclosed flight on December 30.
This marks the fourth time since November that long-range bombers were deployed on round-trip flights from the United States to the gulf. Just like last time, the bombers departed Minot Air Base in North Dakota for the 36-hour, non-stop mission.
The latest provocative flyovers are a likely response to the Islamic Republic's series of military maneuvers currently happening in Persian Gulf waters. On the same day, the elite Basij forces of the Iranian Revolutionary Guard's Navy conducted a huge 'fast boat' drill deployment in the Strait of Hormuz which reportedly involved a whopping 700 vessels.
Around 700 IRGC speed boats on parade/ exercises in the Persian gulf today. Iran's navy is no match for the US navy. If however they did come to blows in the Persian gulf these boats are Iran's secret weapon against a US fleet. pic.twitter.com/Yv5T6u3bcV

— Ali Arouzi (@aliarouzi) January 7, 2021
NBC News Tehran Bureau Chief & correspondent Ali Arouze featured video of the exercise and noted that while Iran's navy remains "no match" for US military might, the reality remains that—
If however they did come to blows in the Persian gulf these boats are Iran's secret weapon against a US fleet.
Commander of the Revolutionary Guard of Iran, Major General Hossein Salami, described of the Thursday maneuvers via state media: 
"Our armed forces and mobilization forces are always ready to defend Iran's vital interests in the Gulf waters… There are secret parts of our military capabilities that can only be displayed in the field."
The US also previously ordered the USS Nimitz carrier strike group back to the gulf region, after the Pentagon had initially ordered it home to the US West Coast.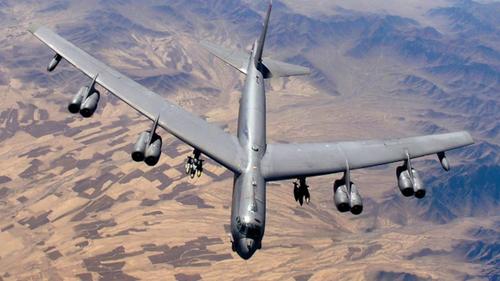 Iran has kept up its military displays since commemorating the one-year anniversary of the death of IRGC Quds Force General Qassem Soleimani on January 3rd.
This has also included recent major drone exercises across various parts of Iran which showcased the country's fleet of suicide drones, among others.
Tyler Durden
Fri, 01/08/2021 – 18:05