Watch Live: VP Mike Pence Presides Over Electoral College Tally
Watch Live: VP Mike Pence Presides Over Electoral College Tally
The last step in a US presidential election is when congress meets in a joint session on January 6 to count the Electoral College votes which have been certified and sealed by each state, and officially declare a winner.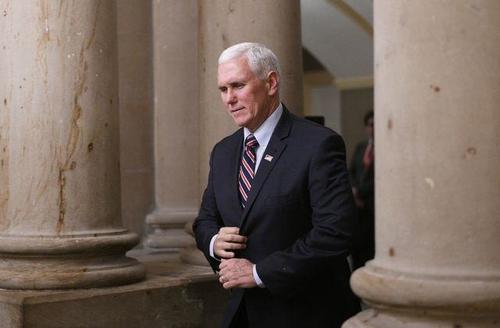 Watch Live:
While most elections have included objectors from the losing party, this time will be a little different – as over 90 GOP lawmakers (77 Representatives and 13 Senators) have pledged to object to the election – even if it doesn't change the outcome.
"I'm hoping that the American people get to hear just a small amount of evidence," said Rep. Marjorie Taylor Greene (R-GA) in a Tuesday statement to the Epoch Times.
Here's how the process for handling objections will work: Of both a House member and a Senator lodge their objection in writing, the joint session will go to recess, while the House and Senate meet separately to debate for up to two hours. Members will be allowed to speak for five minutes each, after which both chambers will vote. For an objection to succeed it needs to achieve a simple majority in both chambers.
House Speaker Nancy Pelosi, D-Calif., will preside over any House debate and has tapped Democratic Reps. Adam Schiff, Calif., Zoe Lofgren, Calif., Jamie Raskin, Md., and Joe Neguse, Colo., to lead any responses to GOP objections. But other Democrats from states Republicans are focused on are expected to also speak out against the effort as well. –NPR
Meanwhile, theories have been flying over what Vice President Mike Pence may or may not 'do' to overturn the results of the November election based on widespread allegations of fraud, and several last-minute procedural changes which Republicans say opened the door for manipulation.
On Tuesday – following a report in the New York Times that Pence allegedly told Trump he has no power to change the election results, President Trump issued a sharp rebuke – calling the report "fake news."
"The New York Times report regarding comments Vice President Pence supposedly made to me today is fake news. He never said that. The Vice President and I are in total agreement that the Vice President has the power to act," Trump said in a statement, before listing several options he says Pence has under the constitution: "He can decertify the results or send them back to the states for change and certification. He can also decertify the illegal and corrupt results and send them to the House of Representatives for one vote for one state tabulation."
— Jack Posobiec 🇺🇸 (@JackPosobiec) January 5, 2021
NPR pours cold water on the 'Patriot Pence' theory, however, after 'an administration official who was not authorized to speak on the record' said that "The VP intends to follow the law and uphold the Constitution tomorrow," adding that Pence – a lawyer by training – has prepared for the joint session by meeting with the Senate parliamentarian, and has been reading legal opinions and studying the Constitution.
Here is the full list of planned objectors via the Epoch Times:
Senate
Sen. Josh Hawley (R-Mo.)
Sen. Ted Cruz (R-Texas)
Sen. Marsha Blackburn (R-Tenn.)
Sen. Steve Daines (R-Mont.)
Sen. James Lankford (R-Okla.)
Sen. John Kennedy (R-La.)
Sen. Mike Braun (R-Ind.)
Sen. Ron Johnson (R-Wis.)
Sen. Bill Hagerty (R-Tenn.)
Sen. Cynthia Lummis (R-Wyo.)
Sen. Roger Marshall (R-Kan.)
Sen. Tommy Tuberville (R-Ala.)
Sen. Kelly Loeffler (R-Ga.)
House of Representatives
Rep. Mo Brooks (R-Ala.)
Rep. Matt Gaetz (R-Fla.)
Rep. Marjorie Taylor Greene (R-Ga.)
Rep. Madison Cawthorn (R-N.C.)
Rep. Barry Moore (R-Ala.)
Rep. Bob Good (R-Va.)
Rep. Jody Hice (R-Ga.)
Rep. Brian Babin (R-Texas)
Rep. Ted Budd (R-N.C.)
Rep. Lauren Boebert (R-Colo.)
Rep. Lance Gooden (R-Texas)
Rep. Jeff Van Drew (R-N.J.)
Rep. Louie Gohmert (R-Texas)
Rep. Ronny Jackson (R-Texas)
Rep. Jeff Duncan (R-S.C.)
Rep. Burgess Owens (R-Utah)
Rep. Andrew Clyde (R-Ga.)
Rep. Jerry Carl (R-Ala.)
Rep. Yvette Herrell (R-N.M.)
Rep. Mark Green (R-Tenn.)
Rep. Ralph Norman (R-S.C.)
Rep. Paul Gosar (R-Ariz.)
Rep. Diana Harshbarger (R-Tenn.)
Rep. Clay Higgins (R-La.)
Rep. Jason Smith (R-Mo.)
Rep. Billy Long (R-Mo.)
Rep. Sam Graves (R-Mo.)
Rep. Vicky Hartzler (R-Mo.)
Rep. Scott Perry (R-Pa.)
Rep. Guy Reschenthaler (R-Pa.)
Rep. Dan Meuser (R-Pa.)
Rep. Glenn Thompson (R-Pa.)
Rep. Mike Kelly (R-Pa.)
Rep. Lloyd Smucker (R-Pa.)
Rep. John Joyce (R-Pa.)
Rep. Fred Keller (R-Pa.)
Rep. Joe Wilson (R-S.C.)
Rep. Byron Donalds (R-Fla.)
Rep. Randy Weber (R-Texas)
Rep. Barry Loudermilk (R-Ga)
Rep. John Rutherford (R-Fla.)
Rep. William Timmons (R-S.C.)
Rep. Kevin Hern (R-Okla.)
Rep. Kat Cammack (R-Fla.)
Rep. Chuck Fleischmann (R-Tenn.)
Rep. Jim Jordan (R-Ohio)
Rep. Richard Hudson (R-N.C.)
Rep. Ron Estes (R-Kan.)
Rep. Tracey Mann (R-Kan.)
Rep. Jacob LaTurner (R-Kan.)
Rep. Elise Stefanik (R-N.Y.)
Rep. Doug Lamborn (R-Colo.)
Rep. Mike Rogers (R-Ala.)
Rep. Chris Stewart (R-Utah)
Rep. Russ Fulcher (R-Idaho)
Rep. Andy Biggs (R-Ariz.)
Rep. Jackie Walorski (R-Ind.)
Rep. Jack Bergman (R-Mich.)
Rep. Tim Walberg (R-Mich.)
Rep. Ron Wright (R-Texas)
Rep. Warren Davidson (R-Ohio)
Rep. John Carter (R-Texas)
Rep. Robert Aderholt (R-Ala.)
Rep. Mike Garcia (R-Calif.)
Rep. Bill Posey (R-Fla.)
Rep. Scott Franklin (R-Fla.)
Rep. Jim Banks (R-Ind.)
Rep. Steven Palazzo (R-Miss.)
Rep. Adrian Smith (R-Neb.)
Rep. David Rouzer (R-N.C.)
Rep. Bob Gibbs (R-Ohio)
Rep. Markwayne Mullin (R-Okla.)
Rep. Scott DesJarlais (R-Tenn.)
Rep. Pete Sessions (R-Texas)
Rep. Dan Bishop (R-N.C.)
Rep. Jodey Arrington (R-Texas)
Rep. Rick Crawford (R-Ark.)
Tyler Durden
Wed, 01/06/2021 – 12:57