Watch: Saudis Release Footage Of Its F-15s Escorting B-52 Bomber Over Gulf In Anti-Iran Message
Watch: Saudis Release Footage Of Its F-15s Escorting B-52 Bomber Over Gulf In Anti-Iran Message
As we've underscored before, rarely are US-52 bomber missions so publicized as they've been by the Pentagon of late. Typically the public won't even know about them, but over the past weeks there've been multiple long-range bomber departures from the US to conduct Persian Gulf flyovers in order to intimidate Iran.
The latest days ago also included an escort of US-allied Saudi F-16 jets, of which the Saudi Defense Ministry published video of over the weekend. Riyadh is attempting to use the official video to intimidate Iran at a moment the Islamic Republic has been boosting its maritime presence in the Strait of Hormuz.
Saudi F-15s escort American B-52 bombers over Persian Gulf amid tensions with Iran pic.twitter.com/RHx80G4nfq

— Lucas Tomlinson (@LucasFoxNews) January 9, 2021
It was late last week that a Pentagon official confirmed to Fox News that the Air Force once again deployed a pair of B-52 Stratofortress bombers to conduct a Persian Gulf flyover as a new 'warning' to Iran, this following a similar publicly disclosed flight on December 30.
This latest flight with Saudi escort marked the fourth time since November that long-range bombers were deployed on round-trip flights from the United States to the gulf. Just like that prior time, the bombers departed Minot Air Base in North Dakota for the 36-hour, non-stop mission.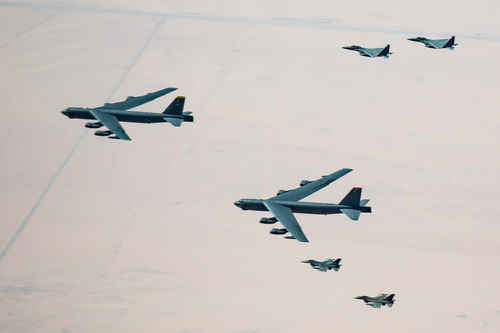 "The B-52 is a long-range, heavy bomber that is capable of flying at high subsonic speeds at altitudes of up to 50,000 feet and provides the United States with a global strike capability," describes Defence-Blog.
Tyler Durden
Mon, 01/11/2021 – 04:15