Watch: Truck Carrying Hundreds Of Propane Tanks Explodes On Long Island Expressway 
Watch: Truck Carrying Hundreds Of Propane Tanks Explodes On Long Island Expressway 
Has anyone thought about the dangers of increased activity of trucks and tractor-trailers carrying propane cylinders around metro areas thanks to surging demand from restaurants? 
Well, that was realized early Tuesday morning when a tractor-trailer carrying hundreds of propane cylinders flipped on the Long Island Expressway – creating a massive fireball and fiery wreck scattered across the eastbound service road of the highway near Junction Boulevard in Queens. 
One Twitter user caught the fireball on camera. Notice how close the incident was to a massive residential structure? 
Here's a video. You can hear the explosion. I can't see clear what kind of car from my side. I am sure people from the building across may have better shot. pic.twitter.com/iCB0BovEzO

— lm (@springdrops) December 22, 2020
FDNY sources told the NYPost that the truck was hauling nearly 300 propane cylinders at the time. Miraculously the driver escaped the inferno. 
While reports were not exactly clear where the truck was headed – we assume the tanks were meant for restaurants in the New York City area, fueling their outdoor heaters following an indoor ban of all dining. 
One of the most iconic photos taken during last week's snowstorm in the metro area was a group of patrons eating outside during frigid temps and snowfall while an outdoor heater fueled with propane kept them warm (well, maybe).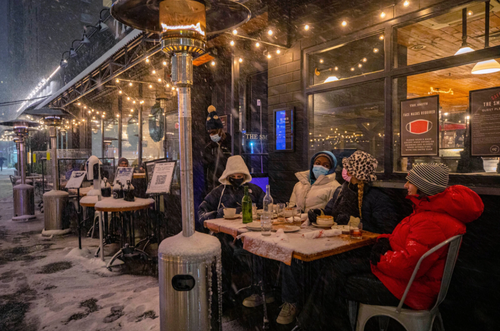 The city's ban on indoor dining has increased the number of trucks carrying propane cylinders that, if an accident occurred, could pose a significant risk to the public. 
Tyler Durden
Tue, 12/22/2020 – 11:00