"We Got Tesla Stock Completely Wrong": RBC Capitulates, Upgrades Tesla After 2 Year 'Underperform' Rating
"We Got Tesla Stock Completely Wrong": RBC Capitulates, Upgrades Tesla After 2 Year 'Underperform' Rating
It was just hours ago we wrote about how Morgan Stanley's Adam Jonas had chased Tesla's price higher, resulting in the bank slapping an $810 (pre-split $4050) "base case" price target on the name. Now, it appears RBC has been the latest to capitulate and issue an upgrade – based on what appears to be the fact that Tesla stock simply won't stop moving higher.
Tesla shares are up 4% (yet again) in pre-market trading on Thursday after RBC also capitulated on the name, abandoning any semblance of analysis via fundamentals and surrendering to the fact that the stock appears to only go up. RBC previously had an "underperform" rating on the name since January 2019. Since then, the stock is up 1215%.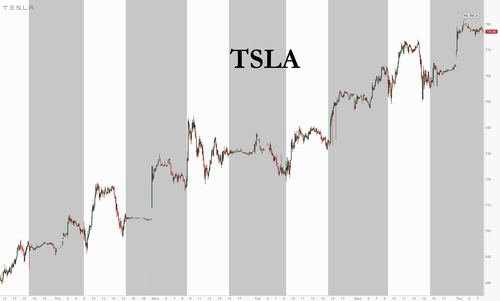 "There is no graceful way to put this other than to say we got TSLA's stock completely wrong," RBC wrote in their note. After capitulating publicly, the bank invoked the "spirit of New Years resolutions" in offering up a $700 price target from its former $339 target.
RBC said it missed how Tesla "can take advantage of stock price to raise capital and fund growth, or even acquisitions" – similar non-vehicle production-related reasoning as Adam's Jonas' note from Tuesday of this week. "Even a relatively large deal would be insignificant to Tesla's market cap," Bloomberg said, summing up RBC's note.
RBC also said it is lifting its 2025 delivery estimate to 1.7 million vehicles from 1.3 million vehicles based "on fundamentals". He said the production increases would be driven by "capacity additions and market share assumptions".
First, we can't help but wonder whether RBC is capitulating too late, and whether or not the firm will continue to be the same contrarian indicator for Tesla it has been since 2019. 
And finally, we wonder if the "spirit of New Years resolutions" will finally help the company consistently sell cars profitably without having the sell off EV credits. But we digress – and, after all, some of the best "analysis" of Tesla's stock price moves yesterday was done on social media:
What is up with these $TSLA call sweeps in the Jan 2022 $1450 and $1475 strike? Huge premium- $7M between two big sweeps.

— Peter Hegedus (@PLHstock) January 6, 2021
— Quoth the Raven (@QTRResearch) January 6, 2021
Today's RBC $TSLA upgrade could be the most hilariously simple one ever!

Courtesy of @Street_Insider:
"we…conclude that the stock price itself is likely to be somewhat self-fulfilling to TSLA's growth and strategy."

A SELL-SIDE UPGRADE BASED ON "STOCK PRICE, BRO!"

— Stanphyl Capital (@StanphylCap) January 7, 2021
Tyler Durden
Thu, 01/07/2021 – 08:45