WeWork To Go Public In $9 Billion SPAC Deal 18 Months After IPO Collapse
WeWork To Go Public In $9 Billion SPAC Deal 18 Months After IPO Collapse
At long last, the company that once promised to "elevate global consciousness" is finally going public…at a tiny fraction of its original valuation.
Roughly 18 months after WeWork's planned IPO collapsed, effectively killed by a stream of leaks about its rapidly-sinking private valuation (which bottomed out around $10 billion, down from a $47 billion peak), the office-space rental company will soon make its debut on the public markets thanks to the SPAC boom.
Days after leaked reports offered a glimpse into WeWork's pandemic-era financials, the SoftBank-backed private company has reached a deal with BowX Acquisition Corp (where basketball legend Shaq serves as an advisor/pitchman), to take the company public in a $9 billion deal (that figure includes the value of WeWork's remaining debt).
As we learned the other day, WeWork actually saw its losses shrink in 2020 compared with the prior year after cutting its operating expenses to the bone as it shuttered office spaces around the world and laid off staff.
Few weeks late — or couple yrs, depending on your point of view —

WeWork has deal to go public https://t.co/66N509KV3u

— Dan Primack (@danprimack) March 26, 2021
WSJ added that WeWork would also raise $1.3 billion, including $800MM in a so-called private investment in public equity, or PIPE, from Insight Partners, funds managed by Starwood Capital Group, Fidelity Management and other investors.
WeWork became infamous for its claims about "elevating the world's consciousness", a mission statement featured in its original IPO prospectus thanks to former CEO/co-founder Adam Neumann, who was pushed out of the company (with a juicy billion-dollar golden parachute) after investors and investment banks turned on him for insisting that control of the company be concentrated within his family, something the firm's would-be backers were unwilling to stomach.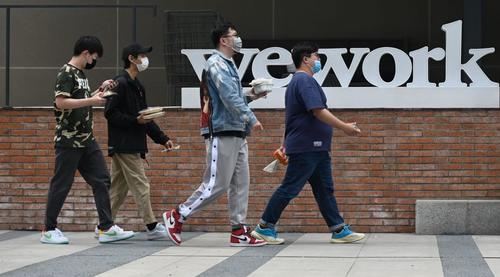 The deal is hardly a surprise. A few days ago, Bloomberg's Matt Levine pointed out that, according to details leaked to the press, the WeWork deal with BowX would actually be a "de-SPAC" deal. In other words, while BowX might be taking WeWork public, it stands to reap a swift exit as WeWork is lining up major institutional investors to invest in the parallel "Private Investment in Public Equity" – or PIPE – vehicle.
Here's the other point. This is a "de-SPAC merger," in which WeWork will merge with BowX, take its $483 million, and become a public company. It is natural to emphasize the SPAC here: It is a SPAC deal, that is the mechanism that WeWork would use to go public, and the SPAC and its sponsor would play a major role in both the deal to go public and WeWork's future as a public company.

But I wouldn't emphasize it too much. If this deal goes through, more than half the money WeWork raises will come not from the SPAC but from the parallel "private investment in public equity," or PIPE, transaction that it does with big institutional investors. WeWork is apparently out on the road now, with a pitchbook, explaining to big institutional investors why it's a good investment at a $9 billion valuation. Eventually that will work, or not; it will find buyers at that price, or it will have to lower the price, or it will have to give up on the deal and stay private. Or else demand – from these big institutional investors in these private meetings – will be so strong that WeWork will be able to upsize the deal and raise more money, or it will be able to raise the price and go public at a $12 billion valuation or whatever.
At the top of the hour, WeWork CEO Sandeep Mathrani and Vivek Ranadivé, BowX founder and owner of the NBA's Sacramento Kings and founder of Tibco Software, will appear on CNBC to answer questions about the deal.
Tyler Durden
Fri, 03/26/2021 – 07:50