Who Exactly Was Rescued? $1 Trillion In Non-COVID-Related "Stimulus" & "Relief"
Who Exactly Was Rescued? $1 Trillion In Non-COVID-Related "Stimulus" & "Relief"
Authored by Adam Andrzejewski via RealClearPolicy.com,
Certainly, the $1.9 trillion American Rescue Plan Act of 2021, provided some targeted COVID aid:
$473 billion in payments to individuals, $75 billion in cash for vaccines, $26 billion to restaurants, $15 billion to help fund airline payrolls, and another $7.2 billion in Paycheck Protection Program funding for small businesses.
The bill also contained about $1 trillion in non-COVID related spending, pork, and policy changes.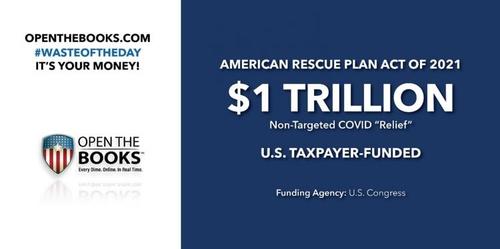 For example, the original bill included a hike in the minimum wage to $15 per hour. Even the non-partisan Congressional Budget Office (CBO) determined that move would cost the U.S. economy $1.4 million jobs.
A quick spotlight on agencies and entities receiving "coronavirus recovery" money in the bill includes:
$350 billion to bailout the states and the District of Columbia. The allocation formula uses the unemployment rate in the fourth quarter of 2020. Therefore, states like New York and California –who had strict economic lockdown policies and high unemployment– will get bailout money. States like Florida and South Dakota – who were open for business – will get less.

$128.5 billion to fund K-12 education. The CBO determined that most of the money in education will be distributed in 2022 through 2028, when the pandemic is over.

$86 billion to save nearly 200 pension plans insured by the Pension Benefit Guaranty Corp. There are no reforms mandated while these badly managed pensions are bailed-out. Many of these pension plans are co-managedby unions.

$50 billion goes to the Federal Emergency Management Agency (FEMA). A portion of these funds is earmarked to reimburse up to $7,000 for funeral and burial costs related to Covid-19 deaths.

$39.6 billion to higher education. This amount is three times the money – $12.5 billion – that higher ed received from the massive CARES Act last year.  

$1.5 billion for Amtrak – the National Railroad Passenger Corporation. In FY2020, Congress appropriated $3 billion for Amtrak ($2 billion in annual appropriations, plus an additional $1 billion in the CARES Act COVID relief bill). In the three years before the pandemic, AMTRAK lost $392 million – even after a $5 billion taxpayer subsidy (FY2017-FY2019).
Then there is the money for arts, libraries, and museums.
Our auditors found that $470 million in the bill doubles the budgets of The Institute of Museum and Library Services and the National Endowment of the Arts and the Humanities:
$200 million in the bill to The Institute of Museum and Library Services (FY2019 budget: $230 million). This agency is so small that it does not even employ an inspector general.

$270 million funds the National Endowment of the Arts and the Humanities (FY2019 budget: $253 million) – In 2017, our study showed eighty-percent of all non-profit grant making flowed to well-heeled organizations with over $1 million in assets.
People are hurting from the global pandemic.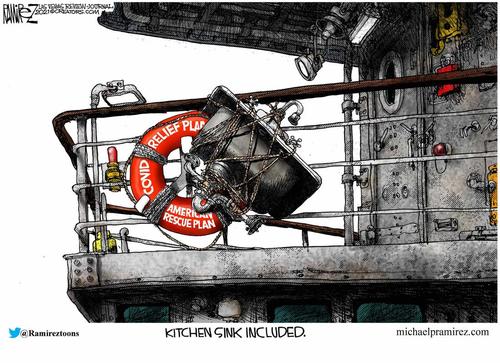 If additional COVID relief was needed for testing, vaccines, small businesses, and individuals, then a narrow, targeted, "skinny" bill would have answered the real need.
*  *  *
The #WasteOfTheDay is presented by the forensic auditors at OpenTheBooks.com.
Tyler Durden
Tue, 03/16/2021 – 14:20