WTI Drops After Big Surprise Product Inventory Builds
WTI Drops After Big Surprise Product Inventory Builds
Oil prices ended higher today, but closed back below $60 after a big roundtrip as overnight hopes limped away as a sense that Biden's infrastructure plan may not be as big as the bulls had hoped, raising further doubts around energy demand.
Investors read the decision by OPEC+ to gradually increase market supply as a statement of confidence in demand late last week, although fresh lockdown measures in Europe and rising Covid-19 cases elsewhere have served to quickly drain that optimism.
"The current situation is fragile, therefore revisiting the recent highs (of oil prices) … is not imminent" commented PVM analyst Tamas Varga, before adding that "until there are palpable signs of falling infection rates the oil market is likely to remain violent and hectic".
For now, the algos are focused on one number only…
API
Crude -2.618mm

Cushing -84k

Gasoline +4.553mm

Distillates +2.81mm
Crude stocks drew down for the second week in a row, but the big surge in product inventories is a surprise…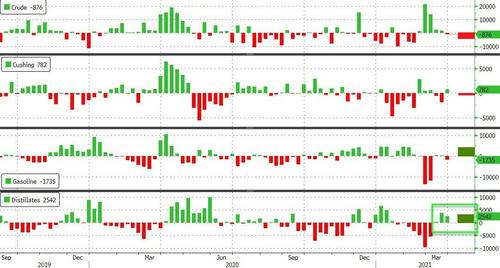 Source: Bloomberg
WTI hovered around $59.50 ahead of the API data and slipped lower after…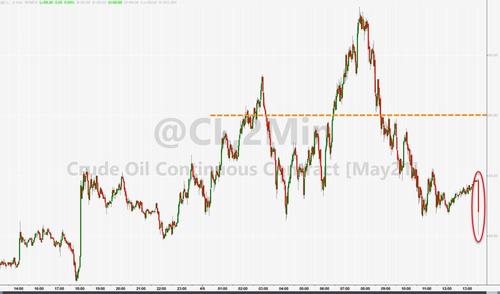 We suspect the next mnove will be triggered by headlines surrounding the fact that Western and Iranian officials kicked off talks to revive the embattled 2015 nuclear accord, amid the challenge of bitter relations between Washington and Tehran, punishing U.S. sanctions on the Islamic Republic, and moves by Iran to accelerate its nuclear activity.
Tyler Durden
Tue, 04/06/2021 – 16:36