WTI Holds Above $50 After Huge Product Builds Offset Big Crude Draw
WTI Holds Above $50 After Huge Product Builds Offset Big Crude Draw
Oil prices have held on to their 'Saudi Shocker' gains overnight despite the surprising surge in product stocks reported by API. WTI is holding the $50 Maginot Line as markets continue to digest yesterday's big move by The Kingdom to paper over cracks in the OPEC+ coalition:
"We are the guardian of this industry," Saudi Energy Minister Prince Abdulaziz bin Salman said as he gleefully announced the cut on Tuesday. "This gesture of goodwill made by our leadership, in the name of His Royal Highness the Crown Prince Mohammad bin Salman."
For now, all eyes are back on the current inventory status.
API
Crude -1,663mm (-1.2mm exp)

Cushing +1.003mm

Gasoline +5.473mm  (+1.4mm exp)

Distillates +7.136mm (+2.2mm exp)
DOE
Crude -8.01mm (-1.2mm exp) – biggest draw since August 2020

Cushing +792k

Gasoline +4.519mm  (+1.4mm exp) – biggest build since April 2020

Distillates +6.39mm (+2.2mm exp) – biggest build sine May 2020
Crude stocks tumbled more than expected in the last week of 2020 but product inventories surged…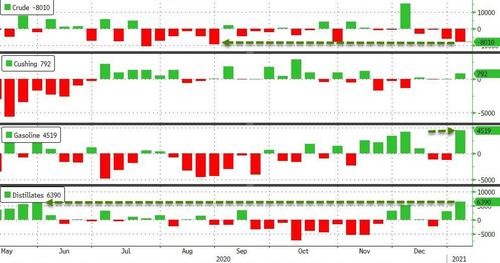 Source: Bloomberg
Gasoline Demand collapsed last week…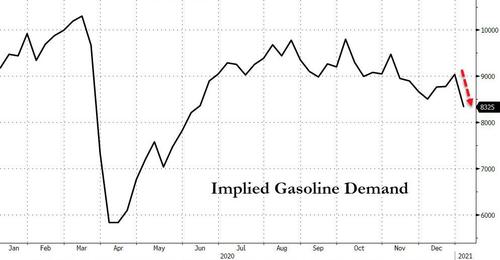 Source: Bloomberg
US Crude Production remains flat at 11mm b/d despite a rise in rig counts…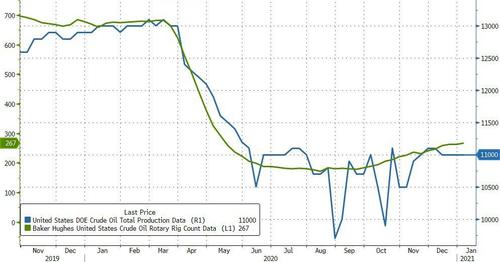 Source: Bloomberg
WTI hovered around $50 ahead of the official DOE inventory/production data, but we note that the recent rise appears to have left the Saudis gloating: "We have the responsibility of looking after the market, and we will take all necessary actions. I have said this repeatedly and even advised that no one should bet against our resolve," Prince Abdulaziz said in an interview with Bloomberg News after the OPEC+ meeting.
"Those who have listened are now bearing the fruits; the others — good luck with their ouching."
And oil prices rose modestly after the print as the big product builds offset the big crude draw…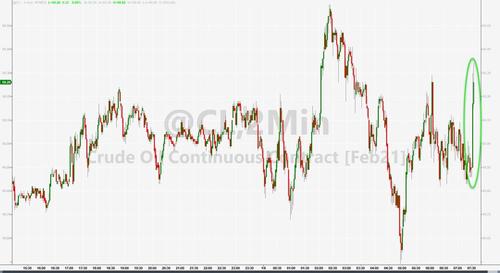 "The Saudi move, if realized, is not only offering a soft pillow to the oil market, but also a full set of blankets, bed covers and most likely the bed itself," said Bjornar Tonhaugenof consultant Rystad Energy A/S.
Tyler Durden
Wed, 01/06/2021 – 10:37