WTI Jumps Back Above $65 After Crude Stocks Unexpectedly Dropped
WTI Jumps Back Above $65 After Crude Stocks Unexpectedly Dropped
Oil prices ended lower today, with WTI back below $65, as traders weighed demand amid global recovery expectations against Europe's vaccination debacle.
"The crude demand outlook still remains the key for higher prices and if short-term risks continue to grow due to virus variants, oil prices could be in for modest 10% pullback," Moya said. He also said in a market update Tuesday that the suspension of the use of AstraZeneca's vaccine by some European nations "should diminish the crude demand outlook in the short term."
Road-fuel use is picking up in India and the U.S., but in France, consumption remained 10.8% lower in February year-over-year, according to the country's petroleum-industry federation UFIP.
Additionally, on the supply side, OPEC+ alliance's aggressive supply management that has helped shepherd prices up from unprecedented lows last year is facing an emerging threat of Iranian oil.
Oil prices have fallen as "U.S. refiners struggle to bounce back from the Texas power crisis" in mid-February when the state was hit by a frigid temperatures, said Phil Flynn, senior market analyst at The Price Futures Group.
"Expectations of another crude build is holding us back."
Crude stocks were expected to have risen for the 4th straight week (and sit at their highest since December), albeit very modestly.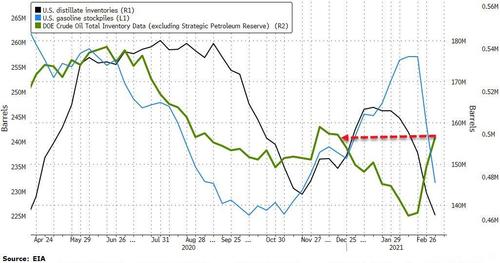 Source: Bloomberg
API
Crude -1.00mm (+400k exp)

Cushing

Gasoline -930k (-1.4mm exp)

Distillates +904k (-900k exp)
After two weeks of somewhat chaotic and storm-impacted inventory data, API reported a surprise draw in crude stocks…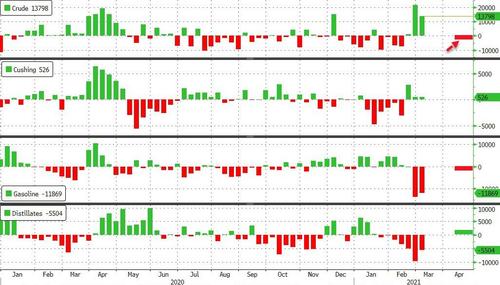 Source: Bloomberg
WTI hovered between $65 and $64.50 ahead of the print and jumpe dback above $65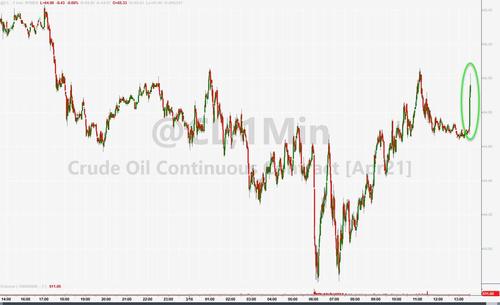 Crude is seeing "a bit of a technical breather after the big jump up," with prices "starting to get into a sweet spot," said Ryan Kelbrants, market broker at CHS Hedging LLC. On the demand side, economies are "opening up and we're getting things in the U.S. going again, but some of the other countries are lagging."
Tyler Durden
Tue, 03/16/2021 – 16:39