WTI Steady After Crude Draw, Gasoline Stocks Build For 5th Straight Week
WTI Steady After Crude Draw, Gasoline Stocks Build For 5th Straight Week
Tyler Durden
Wed, 12/16/2020 – 10:37
Oil prices are down modestly overnight, despite more optimism on US COVID relief, after API reported a surprise crude build. However, Asian buyers are reportedly snapping up oil at higher prices than last month, helping to bolster physical crude markets across the world and underpin a rally in futures.
"Asia is very much driving the market at the moment," said Kitt Haines, an analyst at Energy Aspects Ltd. "We will need the Asian buying momentum to sustain, otherwise things could get weak."
The question is – can Asian demand overcome ex-Asian lockdown-driven weakness?
API
Crude +1.973mm  (-3mm exp)

Cushing -165k

Gasoline +828k

Distillates +4.762mm
DOE
Crude -3.135mm (-2.2mm exp, -1.8mm whisper)

Cushing +198k

Gasoline +1.02mm

Distillates +167k
After last week's massive unexpected crude build, analysts expected some give back and a small crude draw (even as API reported a small build), and were right with DOE data showing a 3.135mm crude draw. Cushing stocks rose along wth Gasoline and Distillates…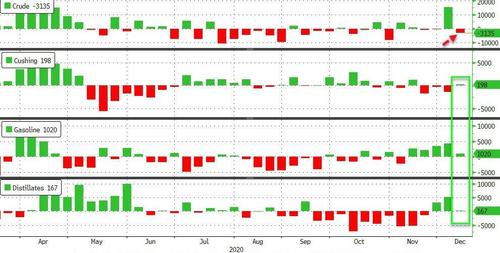 Source: Bloomberg
The moving average for gasoline demand is down for a fifth straight week.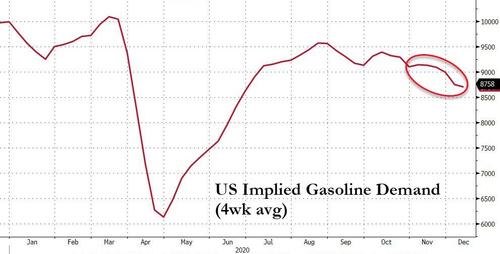 That corresponds with five straight builds in gasoline supply. The number, which the EIA calls product supplied, fell 71,000 barrels a day to 7.91 million barrels a day. It had been holding above 8 million barrels a day for much of the pandemic but those days seem to be gone. GasBuddy said yesterday that holiday demand for gasoline could be 25% lower than last year, amid the lowest pump prices since 2015.
"On the demand side, the biggest near-term downside risk to oil demand expectations is the United States, predominately due to persistent weaknesses in U.S. gasoline demand, given the current trajectory of COVID-19 in the country," analysts at FGE wrote in a note.
Despite a rise in rig counts, US crude production (finally clear of storm-driven shut-ins) slowed modestly last week…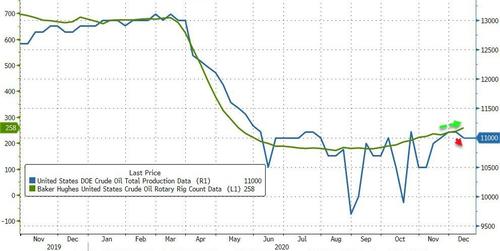 Source: Bloomberg
WTI had slid to around $47.30 ahead of the official inventory data and rose modestly on the crude draw.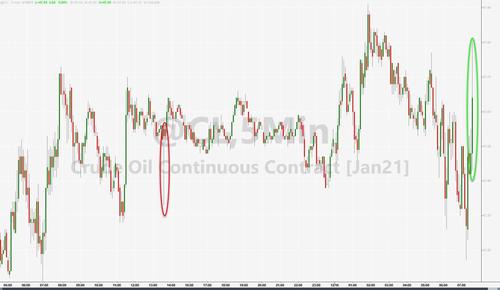 "A weak dollar is helping support the price but the market is riding a wave of vaccine optimism. Yesterday, we had a strong rally due to the impending approval of a second COVID-19 vaccine," said Harry Tchilinguirian, head of commodity research at BNP Paribas.

"The market is looking further ahead to the recovery instead of near-term low oil demand."
And don't forget that for all the optimism surrounding the rollout of COVID-19 vaccines this month, the International Energy Agency (IEA) warned on Tuesday that the shattering blow to global oil demand will not be reversed quickly.