Yellen Urges US Allies To Adopt Global Minimum Corporate Tax Rate
Yellen Urges US Allies To Adopt Global Minimum Corporate Tax Rate
To help offset the cost of his multi-trillion infrastructure/climate-change/wealth redistribution plan, President Biden is seeking to push through the largest federal tax increase in decades – some say it'll be the biggest since 1942. But as his Republican (and even some Democratic) critics have pointed out, hiking taxes on corporations might risk hamstringing American economic competitiveness at a time when it's most needed.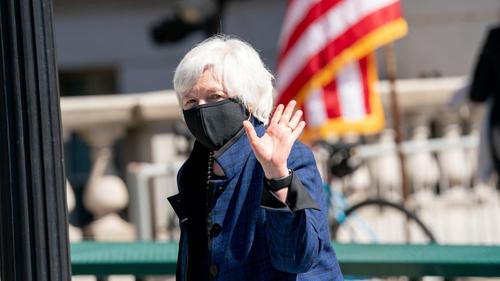 It's a problem that has plagued the administration. And while there's no easy answer, it appears Biden and his cabinet have hit on a desperate new tactic: dispatching diminutive Treasury Secretary Janet Yellen to argue for a "global minimum corporate tax rate." According to prepared remarks leaked to Axios, Yellen's insistence on the new global tax will be a key part of her first public address as Treasury Secretary, which is set to begin at 1100ET. She will be speaking to the Chicago Council on Global Affairs.
As Axios points out in a section of its report entitled "why it matters", convincing other nations to impose a minimum corporate tax would lower the likelihood that US corporations will try relocating offshore to avoid the Biden tax hit.
"Competitiveness is about more than how U.S.-headquartered companies fare against other companies in global merger and acquisition bids," Yellen says in her prepared remarks. "It is about making sure that governments have stable tax systems that raise sufficient revenue to invest in essential public goods and respond to crises, and that all citizens fairly share the burden of financing government."
"We are working with G20 nations to agree to a global minimum corporate tax rate that can stop the race to the bottom."

"Together we can use a global minimum tax to make sure the global economy thrives based on a more level playing field in the taxation of multinational corporations, and spurs innovation, growth, and prosperity," Yellen said in her prepared remarks.
As Axios reminds us, the average corporate rate in the G-20 is 24%. Some nine members recently lowered their corporate rate, according to the Tax Foundation.
Regardless of whether America's G-20 allies assent to Yellen's demands, the tax plan unveiled by President Biden in Pittsburgh last week calls for raising taxes on the international earnings of American corporations, including imposing a minimum tax on international earnings.
Previously, Yellen had been tasked with assuaging the concerns of American corporations that Biden's massive spending outlays – between the $1.9 trillion stimulus and the combined $3 trillion-plus two-part infrastructure package – wouldn't stoke inflation. Now, she's being deployed to try and convince America's allies that they should collaborate on tax rates to avoid a dangerous "race to the bottom," especially as the year-long COVID outbreak has strained government coffers.
In addition to calling for a global minimum tax rate, Yellen is also expected to call for $650 billion in new SDRs from the IMF, which will be doled out to emerging economies to help them secure access to US dollars. With the IMF's spring meeting starting this week in Washington (alongside the spring meeting of the World Bank, its sister NGO), it's widely expected that the $650 billion in new SDRs will be approved: the G-7 has already reportedly backed the proposal.
To be sure, if Yellen's global-tax exhortations reveal anything, it's that Biden's legacy-defining infrastructure plan just might depend on whether a 74-year-old dwarf can convince the world's richest countries to voluntarily hand over their tax sovereignty.
Tyler Durden
Mon, 04/05/2021 – 09:10